Copper is in a secular down trend. However, it has been part of the commodities rebound in 2016 as we can see in the daily chart. 

Copper Daily Chart 4/19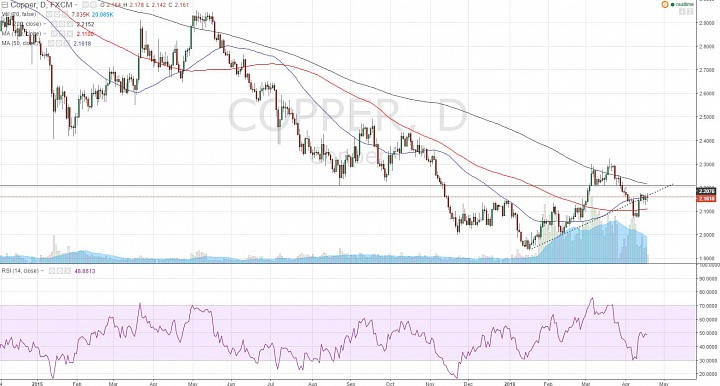 (click to enlarge)

The daily chart essentially shows that there was at least a temporary price bottom formed in 2016. However, bulls are weak as price retreated after copper tagged 2.30. Essentially price found resistance in the heart of the consolidation formed in August to October of 2015. 

I think right now, 2.2075-2.2150 is a key pivot area. This involves a common support pivot that can turn into resistance, as well as the 200-day simple moving average. If price holds under this area, we are looking at bears taking over, which would expose the 2.00 psychological level again with the 1.1940 low on the year in sight as well. 

If price can break above 2.2150, we should anticipate a test of 2.30. If price does move this way, the 2016 bullish momentum might still be in play, which means there could be upside towards 2.40, and even the previous consolidation high around 2.47.