With both stocks and US Treasury prices at all time highs the market is sensing that something has to give, and that something may just be more QE, which likely explains the move higher in gold to coincide with both risk and risk-haven assets. As of moments ago, gold rose above $1,370, and was back to levels not seen since 2014. Curiously, the move higher is taking place after Friday's "stellar" jobs report, suggesting that someone does not believe the seasonally-adjusted numbers goalseeked by the BLS.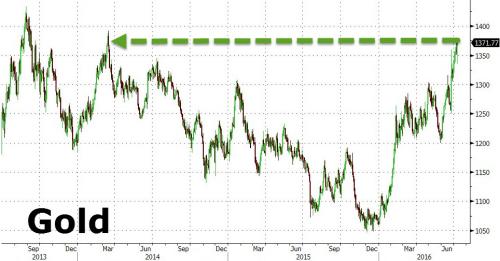 And while we reported last week that one way investors are rushing into the anti-QE safety of gold is by buying paper gold derivatves such as ETFs, which rose above 2,000 tons for the first time since 2013, many others have bypassed paper claims on gold such as GLD entirely, and are rushing into physical.
Case in point, Japanese savers who, fearing domestic confiscation, have been accumulating gold in Switzerland. It's not just the Japanese: as Nick Laird shows, the past week saw the second largest ever increase in physical gold holdings, as the total published holdings of physical funds rose by 2.5 million ounces to 85.8 million, second only to the 4 million ounce increase in early 2009.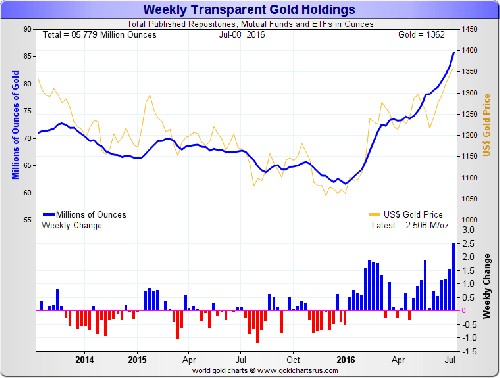 Finally, with even the sellside starting to turn, there may be more upside as the slow money starts to move in. In a whimsical note released on Friday, Bank of America's metals team writes "Gold: always believe in your soul. Glad you are bound to return. You're indestructible."
Yes, we were surprised too, but it's true.
Strange golden "poetry" aside, this is why BofA thinks gold is going to $1,500 and silver's next stop is an...
More