Let's get right to it and use a recent breakout as an example.
Salesforce.com, inc. provides enterprise cloud computing solutions, with a focus on customer relationship management to various businesses and industries worldwide.
This selection was first added to my High Ranked Leaders Watch list on 10/9 as its shares were setting up in a base near all time highs and above their 50-day moving average. I always consider that technically ideal as there is virtually no overhead supply in the way of any further possible gains, while in the event of a pullback, there is also sound support just below. Additionally, share price is never too extended, usually being near or within 10% of the stock's 50 DMA, as the stock looks poised to breakout.
While a selection is on this particular watch list, I am watching for it to trade above its TRIGGER PRICE. In CRM's case that was $76.31, which was .10 cents above a significant high in what was the current base. If shares trade above that TRIGGER PRICE, while the day's volume is at least on pace to make my TRIGGER VOLUME hurdle, which is +50% above the stock's 50 DAV, then by default that stock is triggering a technical buy signal. Then the stock is considered a BUY up to the MAX BUY PRICE which is always +5% above the TRIGGER PRICE. This always gives us a 5% BUY window.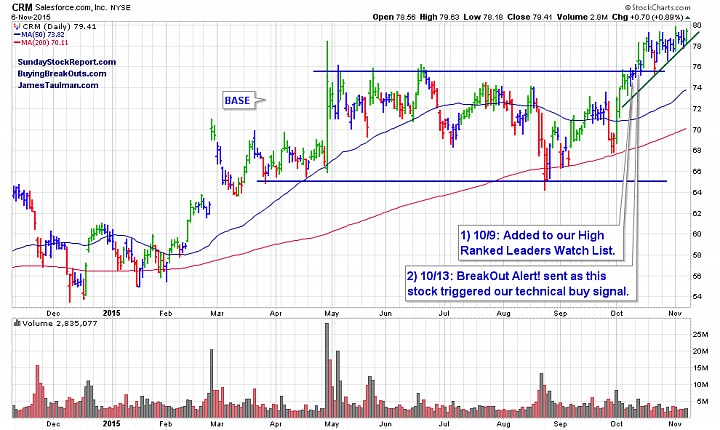 Charts courtesy of StockCharts.com
Shares of CRM went on to break out a few days later on 10/13 with volume that looked on pace to make the required +50% volume. At 10:52 AM that morning, I issued a BreakOut Alert! via email to all my Premium Members. This stock was then added to the Sunday Stock Report Portfolio and is now being covered as a holding.
Shares continued trading in a quiet fashion this past week (11/2 – 11/6) as volume remained below average (-31%) and the stock is at new all-time highs. There is a lack of any real selling, while virtually everyone who has an interest is profitable.
This leader also continues making a series of higher lows, trading in an uptrend. However, any declines with volume would be the first sign to look out for on the downside.
I am going to put my 1st SUPPORT at the 50-day moving average, which is currently at $73.82 or -7.6% from Friday's close.
Below there, formidable support is offered by the 200-day moving average ($70.11) where the stock has previously been defended in late September. This area of support is -13% below, and we would not want to see this trade or any trade get that ugly. Always do you best to keep any losses small. Use -8% from your BUY PRICE as a guide, yet I personally would not use a sell stop at -8% unless you feel you have to.
Of course, as with any stock in the Sunday Stock Report Portfolio, declines with volume or breaks below upward trend lines are at-the-least warning signs, while breaks of support, especially with volume are clear sell signals.
FORMULAS:
TRIGGER PRICE: BASE HIGH + .10 CENTS
TRIGGER VOLUME: 50 DAV x 1.5
MAX BUY PRICE: TRIGGER PRICE x 1.5
MAX STOP LOSS GUIDE: BUY PRICE x 0.92
All of this I consider pretty straight forward, and how I have been doing it for the past 15 years. Most of this I developed while I had served as Editor-in-Chief at an independently licensed website that offered stock reports and services based on the CAN SLIM® investment system.
There is only one wild card that we have to deal with every three months. That is each company's quarterly earnings announcement. No matter how good any current holding looks technically or fundamentally, when earnings are released, anything is possible. Earnings announcements are the best way to wreck a great going trade. Before the news, investors need to be prepared for some volatility to say the least. Or in a worse case, some steep losses, such as was with SKX as a recent example.
A current example is our LXFT, which has solid fundamentals, very high ranks and is technically doing very, very well since the day after it broke out for us on 10/26. They report this coming Tuesday, after the close. Let's study what happens.
In any case, and especially where you may not have much of a profit cushion (10% +/-) or even have a loss, and the company is reporting on say a Friday before the open, you need to make a decision to "hold" or "fold" by Thursday's close.
Management at salesforce.com plans to report earnings a little later this month. Joy.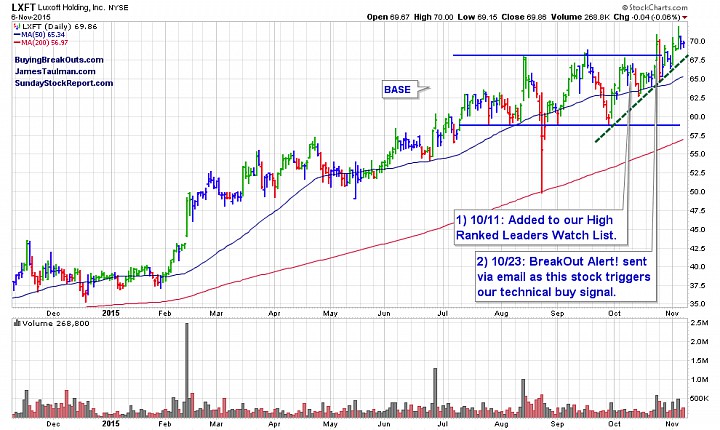 Charts courtesy of StockCharts.com
As I explained earlier, for more than 8 years I had served as Editor-in-Chief an independently licensed website that offered stock reports and services based on the CAN SLIM® investment system.
I have developed a knack for being able to quickly and accurately analyze high-ranked stocks based on this winning investment strategy.
Over the years, I have enjoyed assisting individuals from professional money managers to private investors with their needs in relation to implementing this investment approach on a daily basis in the current marketplace.
Each Sunday you could hear me deliver my weekly market report as part of the "Your Money Matters" radio program on ABC and CBS radio networks.
I now runs two websites and a portfolio service where I features select stocks which match up very favorably with the guidelines of the winning investing system.
At my long-standing SundayStockReport.com website, I produce a weekly newsletter that includes my High Ranked Leaders Watch List, and ongoing portfolio style coverage on breakouts from that concise list.
My newer site, BuyingBreakOuts.com is where I offer a stock watch list each market morning, emailed out as a Stock WatchList Morning Update. This report contains my hand selected stocks which looked the most poised to break out. There are also real-time "BreakOuts Alerts!" of stocks from that list which trade above my set Trigger Price. These are sent via email to those who sign up for this free service.
Most recently I introduced – James Taulman's Personal Portfolio Service where I give specific BUY, HOLD or SELL calls on suitable high-ranked market leaders. These selections have solid fundamentals along with bullish technical chart patterns. I also present stocks for shorting and give, SHORT and COVER alerts on those as well.
I designed this latest service to take only what I see as the most sound stock selections from all of the services which I currently offer.
This new service is basically how I use the information which he has available to me, to trade a personal brokerage account.