Estée Lauder Companies Inc.'s EL shares have been gaining momentum driven by brand strength, rising demand for beauty products and a strong presence in emerging markets. In the past six months, shares of this leading manufacturer and marketer of cosmetics have outperformed the Zacks categorized Cosmetics and Toiletries industry. In the said time frame, shares reflected a growth of 21% compared with the industry's gain of 10.1%.
So what are the factors contributing towards the growth of the company? Let's find out.
Factors Driving Performance
As a global leader in prestige beauty products, Estée Lauder sells more than 25 brands in over 150 countries. A formidable portfolio of globally recognized flagship brands, which includes M.A.C and Jo Malone London, have provided a competitive advantage and bolsters the company's well-established market position.
Estee Lauder has been able to enhance its portfolio, through several strategic acquisitions. The acquisitions of BECCA and Too Faced has strengthened its fastest growing portfolio and contributed approximately half the reported sales growth in the third quarter of fiscal 2017. The recent investment in DECIEM, a rapidly growing multi-brand company, will also boost sales.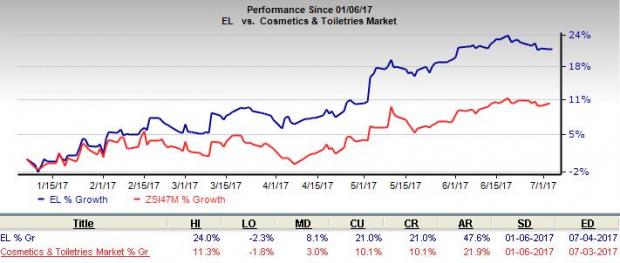 Further, the company ensures constant revenue growth through innovation. This has helped Estée Lauder to venture into manufacturing different types of skin care and makeup products. Moreover, the rising demand for beauty products, particularly in the luxury arena and makeup, has contributed toward robust growth. Looking forward, the company expects to remain focused on prestige cosmetics industry that has been growing steadily for many years and continues to grow faster than other household and personal care sectors.
The company has also been able to insulate itself from the macroeconomic headwinds in the matured markets by establishing a strong foothold in emerging ones. The Middle East, North Africa, sub-Saharan Africa and Asia Pacific markets offer extensive untapped potential for the company. Moreover, increasing demand for make-up is fuelling sales of products like M.A.C. and Tom Ford in China.
In addition to expansion, innovation and strategic acquisitions, Estee Lauder also banks upon aggressive marketing strategies through television and digital media. The company focuses on cost reduction and resource reallocation through initiatives such as the Leading Beauty Forward program.
Comparison with Industry

Bottom Line
Lower retail growth in Hong Kong, decline in spending by travelers and currency headwinds have posed a few concerns for Estée Lauder, of late. However, the company's focus on expanding in emerging markets, aggressive marketing strategies and focus on e-commerce growth are expected to deliver sturdy growth. Better-than-expected earnings and sales in the third-quarter fiscal 2017 have also enhanced investors confidence in this Zacks Rank #2 (Buy) stock.
Other Key Picks
Investors may also consider other stocks from the same sector, such as Constellation Brands, Inc. STZ, B&G Foods, Inc. BGS and Aramark ARMK, all carrying a Zacks Rank #2. You can see the complete list of today's Zacks #1 (Strong Buy) Rank stocks here.
Constellation Brands has an average positive earnings surprise of 11.7% for the past four quarters, with a long-term earnings growth rate of 18.2%.
B&G Foods generated an average positive earnings surprise of 2.1% over the trailing four quarters and a long-term earnings growth rate of 10%.
Aramark has an average positive earnings surprise of 4.5% for the last four quarters and a long-term earnings growth rate of 12%.
Today's Stocks from Zacks' Hottest Strategies
It's hard to believe, even for us at Zacks. But while the market gained +18.8% from 2016 through Q1 2017, our top stock-picking screens have returned +157.0%, +128.0%, +97.8%, +94.7%, and +90.2% respectively.
And this outperformance has not just been a recent phenomenon. Over the years it has been remarkably consistent. From 2000 through Q1 2017, the composite yearly average gain for these strategies has beaten the market more than 11X over. Maybe even more remarkable is the fact that we're willing to share their latest stocks with you without cost or obligation. See Them Free>>
Want the latest recommendations from Zacks Investment Research? Today, you can download 7 Best Stocks for the Next 30 Days.
Click to get this free report
Constellation Brands Inc (STZ): Free Stock Analysis Report
Estee Lauder Companies, Inc. (The) (EL): Free Stock Analysis Report
B&G Foods, Inc. (BGS): Free Stock Analysis Report
Aramark (ARMK): Free Stock Analysis Report
To read this article on Zacks.com click here.
Zacks Investment Research