Submitted by Lance Roberts via STA Wealth Management,
Wednesday, October 21st, marked the date in the future that Martin McFly visited in the second "Back To The Future" film. One thing is for certain, if the Cubs win the World Series, the internet will likely melt.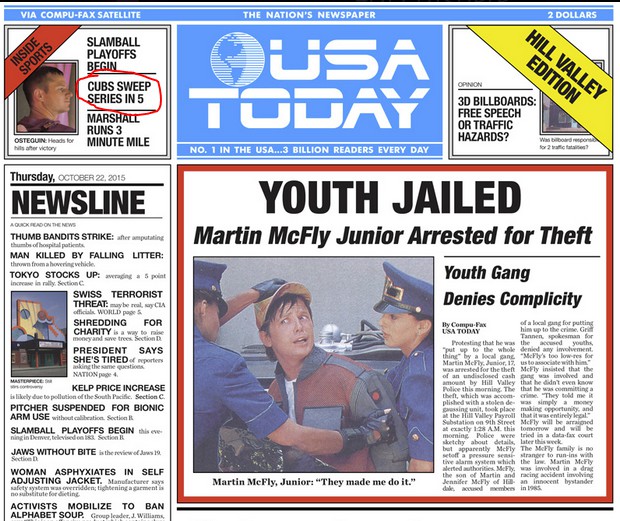 While the futuristic edition of the "USA TODAY" predicted many things, such as the first female President and the rise of "Slamball," it didn't mention the state of the economy and financial markets. 
So, without the benefit of a "futuristic paper" on which to make our bets, we must make decisions on the basis of the information we have today. Importantly, as always, we must separate "fact" from "fiction," while setting our emotional biases aside.
As an investor, it is always important to remember that being "right," but early, is the same as being wrong. But of course, "timing is everything." 
---
THE LIST
1) The Trouble With Financial Bubbles by Howard Davies via Project Syndicate
"Bubble-pricking may indeed choke off growth unnecessarily – and at high social cost. But there is a counter-argument. Economists at the Bank for International Settlements (BIS) have maintained that the costs of the crisis were so large, and the cleanup so long, that we should surely now look for ways to act pre-emptively when we again see a dangerous build-up of liquidity and credit.

 

Hence the fierce (albeit arcane and polite) dispute between the two sides at the International Monetary Fund's recent meeting in Lima, Peru. For the literary-minded, it was reminiscent of Jonathan Swift's Gulliver's Travels. Gulliver finds himself caught in a war between two tribes, one of which believes that a boiled egg should always be opened at the narrow end, while the other is fervent in its view that a spoon fits better into the bigger, rounded end."
Read Also: 3 Reasons Stock Market Corrections Are Inevitable by Sean Williams via Motley Fool
Also Read: The Calm Before The Stock Market Storm by Joe Calhoun via Alhambra Partners
2) The 401k Crisis Is Getting Worse by Carol Hymowitz via Bloomberg
"Even as people live longer and must save more for old age than prior generations, most can not depend on any help from employers. Almost half of U.S. workers didn't have a company-sponsored retirement plan in 2013, compared with 39 percent in 1999, according to an analysis of Census Bureau data.

 

Those most vulnerable include both millennials at startups and managers in their 40s and 50s who've gone from corporate jobs with benefits to small businesses without them. Some 58 percent of the 68 million wage-and-salary workers without a company-sponsored retirement plan in 2013 worked for a business with fewer than 100 employees, according to the Employee Benefit Research Institute.

 

"The current 401(k) system was designed for a workplace that doesn't exist for most people: lifetime careers at big corporations that offer benefits," says Teresa Ghilarducci, an economist at the New School who researches retirement policies. "Saving consistently -- which you need to do for just a modest retirement income -- isn't remotely likely."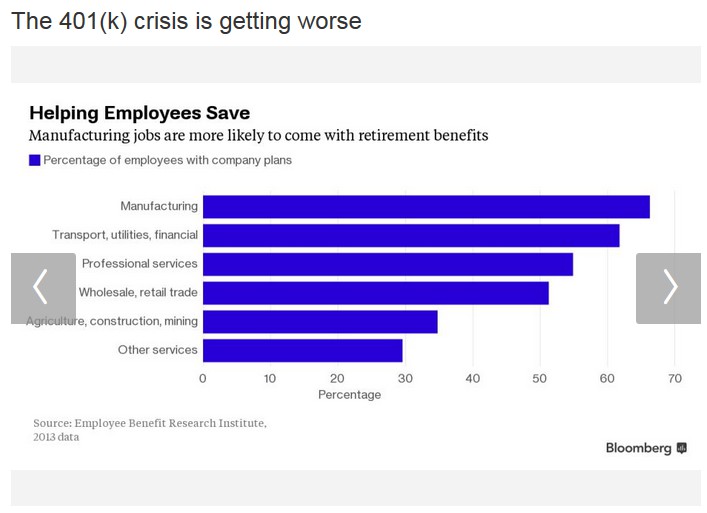 Read Also: 51% Of American Workers Make Less Than $30k by Michael Snyder via End Of American Dream
But Also Read: How Screwed Is America's Middle Class by Chris Matthews via Fortune
3) Why Many Investors Keep Fooling Themselves by Jason Zweig via WSJ
"What are we smoking, and when will we stop?

 

A nationwide survey last year found that investors expect the U.S. stock market to return an annual average of 13.7% over the next 10 years.

 

We all should be so lucky. Historically, inflation has eaten away three percentage points of return a year. Investment expenses and taxes each have cut returns by roughly one to two percentage points a year. All told, those costs reduce annual returns by five to seven points.

 

So, in order to earn 6% for clients after inflation, fees and taxes, these financial planners will somehow have to pick investments that generate 11% or 13% a year before costs. Where will they find such huge gains? Since 1926, according to Ibbotson Associates, U.S. stocks have earned an annual average of 9.8%. Their long-term, net-net-net return is under 4%."
Read Also: 7 Ways Your Brain Makes You Poor by Sam Ro via Business Insider
But Also Read: You Don't Need A Recession For A Bear Market by Eric Parnell via Seeking Alpha
4) The Fed & The Great Depression Myth by John Tamny via Real Clear Markets
"There is a great deal to criticize the Federal Reserve about. Countless books have been written for just that purpose. My next book will argue that while the Fed's power is vastly overstated, it's surely perilous to the economy's health on its worst days, while superfluous on its best.

 

So while the Fed is regularly being blamed for everything from inflation to acne, one of the seemingly more common and "credible" assertions is that the Fed somehow caused the Great Depression. This is one of those comical myths that just won't die."
Read Also: The Fed Is Stuck by Jeffrey Bartash via MarketWatch
But Also Read: I Don't Trust The Phillips Curve by Matt Phillips via Quartz
5) 8 Biggest Question On Investors' Minds by Nicholas Colas via ZeroHedge
"When we get a chance to leave the bubble of the New York financial world, we grab on and hold tight. Today we spoke on a panel in Atlanta for SunTrust Investment Services where we got to hear the real world opinions of scores of advisors and, by extension, their clients.

 

Top of mind issues included "When is the Fed going to increase interest rates", "what does the election next year mean for stocks", "where are oil prices going", "what's the outlook for equities over the next decade" and "what could go wrong right now".

 

The upshot of the discussions was clear: the bull case for U.S. stocks seems clearest but no one thinks there is any easy money to be made from current levels. Our message was to embrace the bearish case, but use upcoming volatility as a buying opportunity for the next bull market. This one, we think, is on its last, faltering legs and the hyenas are circling. Other panelists were more optimistic, so read on for the complete story."
Read Also: Get Used To It, Low Rates Are Here To Stay by Noah Smith via Bloomberg
Read Also: Rebellion At The Fed by Matt O'brien via Washington Post
---
Other Reading
---
"October is a particularly dangerous month to speculate in stocks. Followed by July, January, September, April, November, May, March, June, December, August, and February." – Mark Twain
Have a great weekend.