Given the tumble and stock save since September's infamous "chickening out" FOMC Meeting, investors hope today's minutes will provide some color on just how close Janet and her merry men were to pulling the trigger:
*FED OFFICIALS SAID `PRUDENT' TO WAIT FOR CLARITY ON OUTLOOK
*FOMC MINUTES: MOST PARTICIPANTS SEE LIFTOFF CONDITIONS MET THIS YR
*FOMC MINUTES: ALL BUT ONE MEMBER SAID ECON COND DIDN'T WARRANT HIKE
With all the blame pinned on global turmoil (which has now "calmed" apparently) the S&P 500 has roundtripped to unchanged post-FOMC and given these minutes which suggest this was not a close-call at all. However, this was before the Sept payrolls data.
Pre-FOMC Minutes: S&P Futs 1988.25, 10Y 2.095%, Gold $1145, EUR 1.1285
*  *  *
More headlines:
*SOME OFFICIALS SAID STOCK-PRICE DROP REFLECTED HIGH VALUATIONS
**FOMC MINUTES: MANY MEMBERS SEE LIFTOFF CONDTNS MET THIS YEAR
*SOME OFFICIALS SAID PREMATURE RATE RISE WOULD HURT CREDIBILITY
*  *  *
Pre-FOMC Minutes, Fed Funds Futures implied the following odds of a rate hike...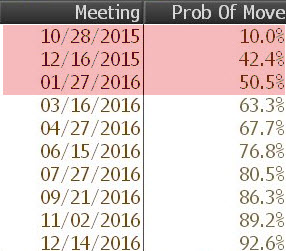 Gold and the Long Bond have notably outperformed since the FOMC Statement as the S&P has rallied all the way back to unchanged... (Silver & Crude are both up 5% since the FOMC Statement).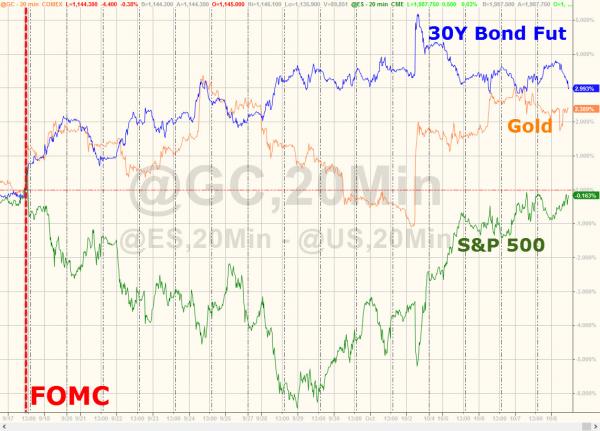 Charts: Bloomberg
*  *  *
Full FOMC Minutes below...