Have you been eager to see how Halliburton Company HAL – the world's No. 2 oilfield-services company – performed in Q2 in comparison with the market expectations? Let's quickly scan through the key facts from this Houston, TX-based company's earnings release this morning:
About Halliburton: Halliburton is one of the largest oilfield service providers in the world, offering a variety of equipment, maintenance, and engineering and construction services to the energy, industrial, and government sectors. The company operates under two main segments: Completion and Production, and Drilling and Evaluation.
Zacks Rank & Surprise History: Currently, Halliburton has a Zacks Rank #3 (Hold) but that could change following its second quarter 2017 earnings report which has just released. You can see the complete list of today's Zacks #1 Rank (Strong Buy) stocks here.
Coming to earnings surprise history, the company has an excellent track record: its beaten estimates in each of the last four quarters at an average rate of 68.49%.
Halliburton Company Price and EPS Surprise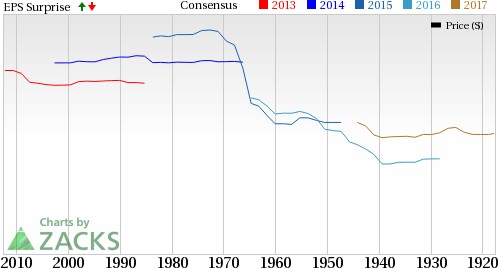 Halliburton Company Price and EPS Surprise | Halliburton Company Quote
We have highlighted some of the key details from the just-released announcement below:
A Better-than-Expected Profit: Adjusted income per share from continuing operation (excluding special items) came in at 23 cents, higher than the Zacks Consensus Estimate of 19 cents. Improved activity in North America and Latin America led to the outperformance.
Revenue Came in Higher than Expected: Halliburton posted revenues of $4,957 million, beating the Zacks Consensus Estimate of $4,844.0 million.
Key Stats: Operating income from the Completion & Production segment was $397 million, turning around from the year-ago loss of $32 million. The division also improved from previous quarter's income of $147 million.
But Halliburton's Drilling & Evaluation unit profit dropped – from $154 million in the second quarter of 2016 to $125 million this year. The number was marginally above the $122 million earned in the Mar quarter.
Check back later for our full write up on this Halliburton earnings report later!
More Stock News: This Is Bigger than the iPhone!
It could become the mother of all technological revolutions. Apple sold a mere 1 billion iPhones in 10 years but a new breakthrough is expected to generate more than 27 billion devices in just 3 years, creating a $1.7 trillion market. Zacks has just released a Special Report that spotlights this fast-emerging phenomenon and 6 tickers for taking advantage of it. If you don't buy now, you may kick yourself in 2020. Click here for the 6 trades >>
Want the latest recommendations from Zacks Investment Research? Today, you can download 7 Best Stocks for the Next 30 Days.
Click to get this free report
Halliburton Company (HAL): Free Stock Analysis Report
To read this article on Zacks.com click here.
Zacks Investment Research