Smart & Final Stores, Inc. (SFS – NYSE)
Smart & Final Stores, Inc. operates as a food retailer in the United States. The company operates through two segments, Smart & Final and Cash & Carry.
Shares are breaking out today in fine fashion as they have traded above resistance of a downward trendline and the 200-day moving average, while volume is on pace to be well above average.
As noted yesterday in my morning email report - "A break above there ($16.69) with volume would have this selection clearing that resistance, and triggering a technical buy signal."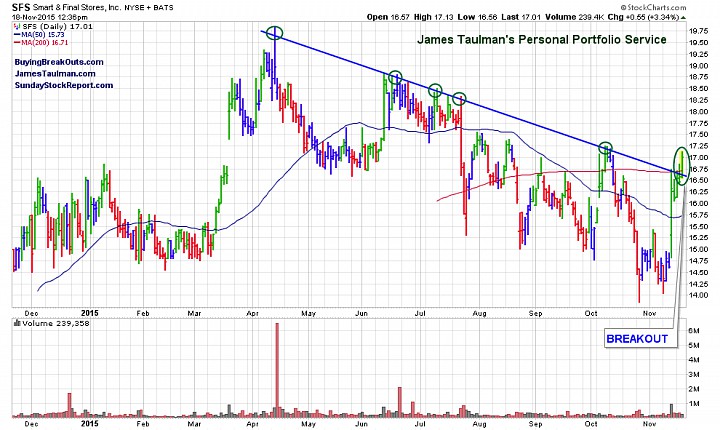 Here is a little about trendline set ups/breakouts.
When tracing out the downtrend, you need at least three points to define the trend. (See the green circles on the chart above.)
The more points you can connect the better.
Also, having those points fairly evenly spaced adds significance as well. Connecting a point that may be too far back in history may not have as much relevance to today's price action.
Another thing, since you are not buying a breakout to new highs, you need to watch for areas of resistance that may loom above your purchase price. These areas can include the 50 or 200-day moving averages or some previous price high or lows. These areas can halt any price progress. However, a break above – not only shows technical strength – but also turns that area into your support, which is nice.
Also, we can use the same trendline (blue line) that was resistance before the breakout as support after a breakout. In the event of a pullback, watch to see if shares hold or fall below that line. Just like with our traditional breakouts – say out of a flat base to new highs, we would not want to see a break back into the base.
_______________________________________________________
James F. Taulman – For more than 8 years James had served as Editor-in-Chief an independently licensed website that offered stock reports and services based on the CAN SLIM® investment system.
He has developed a knack for being able to quickly and accurately analyze high-ranked stocks based on this winning investment strategy.Over the years, Mr. Taulman has enjoyed assisting individuals from professional money managers to private investors with their needs in relation to implementing this investment approach on a daily basis in the current marketplace.
Each Sunday you could hear him deliver his weekly market report as part of the "Your Money Matters" radio program on ABC and CBS radio networks.
James now runs two websites and a portfolio service where he features select stocks which match up very favorably with the guidelines of the winning investing system.
At his long-standing SundayStockReport.com website, he produces a weekly newsletter that includes his High Ranked Leaders Watch List, and ongoing portfolio style coverage on breakouts from that concise list.
His newer site, BuyingBreakOuts.com is where he offers a stock watch list each market morning, emailed out as a Stock WatchList Morning Update. This report contains his hand selected stocks which looked the most poised to break out. There are also real-time "BreakOuts Alerts!" of stocks from that list which trade above his Trigger Price. These are sent via email to those who sign up for this free service.
Most recently James introduced - James Taulman's Personal Portfolio Service where he gives specific BUY, HOLD or SELL calls on suitable high-ranked market leaders. These selections have solid fundamentals along with bullish technical chart patterns. He also presents stocks for shorting and gives, SHORT and COVER alerts on those as well.
He designed this service to take only what he sees as the most sound stock selections from all of the services which he currently offers. This new service is basically how he uses the information which he has available to him, to trade a personal brokerage account.
________________________________________________________
Disclaimer: James Taulman is not an investment advisory service, nor a registered investment advisor or broker-dealer and does not purport to tell or suggest which securities or currencies customers should buy or sell for themselves. The independent contractors and employees or affiliates of Company may hold positions in the stocks, currencies or industries discussed here. You understand and acknowledge that there is a very high degree of risk involved in trading securities and/or currencies. The Company, the authors, the publisher, and all affiliates of Company assume no responsibility or liability for your trading and investment results. Factual statements on the Company's website, or in its publications, are made as of the date stated and are subject to change without notice. It should not be assumed that the methods, techniques, or indicators presented in these products will be profitable or that they will not result in losses. Past results of any individual trader or trading system published by Company are not indicative of future returns by that trader or system, and are not indicative of future returns which be realized by you. In addition, the indicators, strategies, columns, articles and all other features of Company's products (collectively, the "Information") are provided for informational and educational purposes only and should not be construed as investment advice.