From what I have read, the Model 3 is doing well. But we all know Elon Musk is a master at PR. The market seems to eat it up as it has been pulling TSLA from its low on the year around 141 to a new high on the year now around 255.50.
The whole "hubris apology" on how they messed up production of the Model X SUVs was like a humble brag. It basically said that it wanted to do too much in the model X, and because of that vision, it failed to meet demand. There were only a few parts that caused the delay in production, which could have been avoided if they left out only a few techs and features out.
I read - "we are perfectionists, visionaries, which does not always lead to the most practical thing - even our mistakes are noble." It's a "we did too much" and not "too little" type of mistake that everyone can forgive.  That's why shares climbed despite admission of "fault". 
TSLA Daily Chart 4/6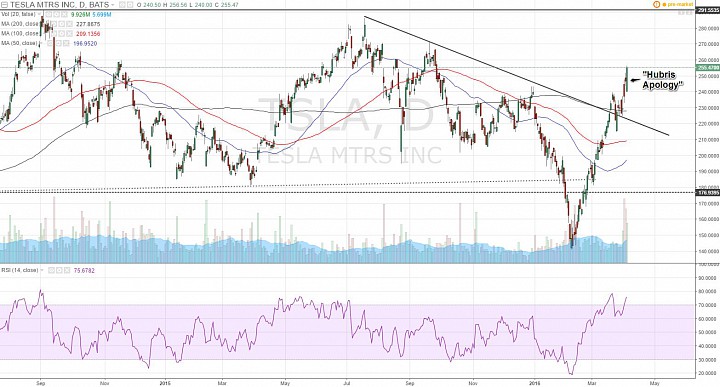 (click to enlarge)
TSLA is starting the week with a bang as the market bought it up. The "apology" did not deter the current bullish momentum. In fact, the bullish engulfing pattern from Monday's (4/5) session suggests bullish continuation with the record high near 291.50 in sight.
At this point, It will take a break below 240 to suggest a period of consolidation.
Brian Johnson of Barclays has a Sell recommendation for TSLA, but I would respect the current uptrend and not consider the sell scenario until it reaches 290 and stalls.