In 2013, the S&P 500 closed at a record high at the same time that the 10-year U.S. Treasury bond yield closed at a record low. The reason? The Federal Reserve had been buying hundreds of millions of government bonds as part of its quantitative easing (QE) program. Indeed, back in 2013, Fed leaders determined that the country still required emergency-level economic stimulus.
Here in 2016, the S&P 500 may close at a record high above 2130 at the same time that the 10-year yield closes at a record low beneath 1.36%. The difference between three years ago and the present? While the Fed is still maintaining an effective overnight lending rate near zero percent, the central bank has not been acquiring Treasuries with additional electronic dollars to stimulate the U.S. economy. In other words, the Fed is not as stimulus-crazy as it used to be.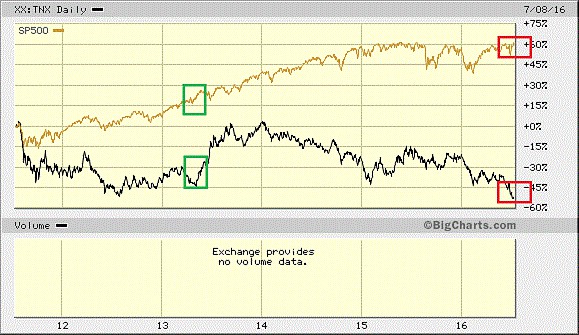 How rare is it for the S&P 500 to register a record high-water mark as the 10-year yield is logging a never-before-seen low point? According to Dow Jones, if it happens again, it will be the second occurrence in 40 years.
U.S. stocks and investment grade bonds have both performed remarkably well since the February stock correction. On the flip side, an astute observer should be quick to note that iShares 7-10 U.S. Treasury Bond ETF (IEF) has outhustled the S&P 500 SPDR Trust (SPY) since the Fed's final bond purchase back on December 18, 2014. (And with a whole lot less volatility.)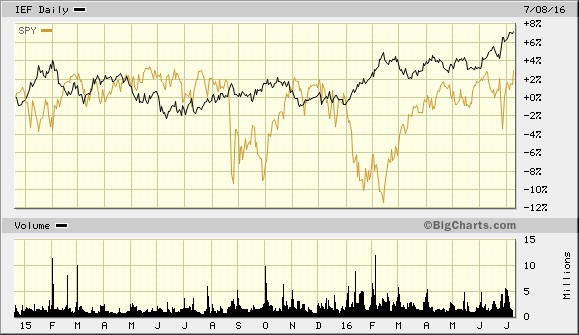 Analysts continue to wonder, "Can stocks and investment grade bonds keep it up?" History suggests that something is likely to break; that is, either the bond bubble will burst or the stock balloon will pop. (Heaven help participants if both asset classes get cremated simultaneously.)
Some optimists have been suggesting that the unusually strong correlation between stocks and investment grade bonds since...
More