Summary
Unwarranted sell-off plus recent market conditions have created an excellent buying opportunity.
Investors overreacted to news that lead candidate Zilretta (FX006) "failed" Phase IIb trial.
Positive results from ongoing Phase III trial should be enough evidence of efficacy to support FDA approval.
Risk of performing another Phase III trial is already priced in.
Company
Flexion Therapeutics (NASDAQ:FLXN) is a specialty pharmaceutical company focused on the development and commercialization of novel non-opioid pain therapies. The company is currently advancing a portfolio of injectable drug candidates that have the potential to provide better and more persistent analgesia compared with existing therapies. Flexion uses a PLGA microsphere technology that creates sustained release injections that provide therapy for three months or longer. PLGA is a biodegradable polymer that naturally breaks down into carbon dioxide and water. The technology has been used for several decades (examples include dissolving stitches, orthopedic screws, and other marketed pharmaceutical products such as Sandostatin LAR and Risperdal Consta) and has already been proven safe and effective.
Flexion's lead product candidate, Zilretta (also referred to as FX006) is a sustained-release triamcinolone acetate [TCA] injection to treat osteoarthritis [OA] in the knee. TCA is already currently used to treat OA; however, it is only available as an immediate-release injection (e.g., Kenalog) and the pain relieving effects wear off after a few weeks at most. Zilretta is intended to provide at least three months of pain relief for OA patients.
As of September 30, 2015, Flexion had $132 million in cash and short term investments, with only $21 million in total debt. The company's burn rate is less than $3 million per month even with the ongoing Phase III trial. At this rate, the company can survive for the next three years without the need to raise additional capital.
Market Overreaction
Flexion Therapeutics has been drawn back into a prime buying position due to the recent market pullback. In early September, Flexion was trading at a high of $30/share. An unwarranted massive sell-off occurred after Zilretta "failed" its Phase IIb clinical trial.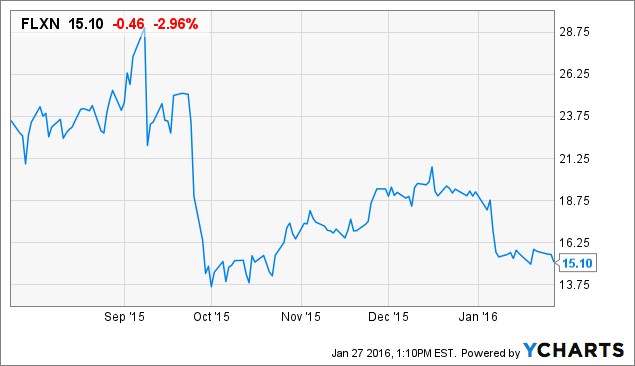 Although Zilretta did not meet the trial's primary endpoint, which was to demonstrate superior pain relief compared to placebo at week 12, it did demonstrate superior pain relief in weeks 1 through 11 and also at week 13. Week 12 was the only week where superior relief was not significant. It is not immediately clear why the week 12 data point was not significant, however, it may have been due to patients dropping out of the trial, which is extremely common and often has nothing to do with the drug itself. When Flexion used a different statistical model that minimizes the...
More