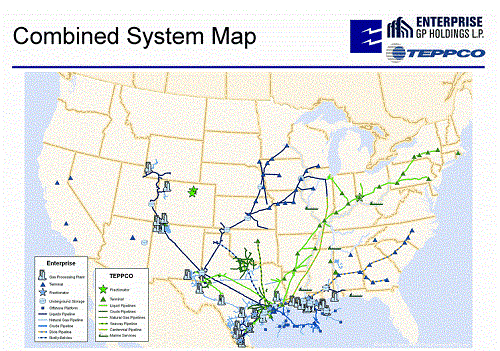 Enterprise Products Partners (EPD) is an "MLP", or Master Limited Partnership, a type of business with preferential tax treatments due to distributing a large percentage of their profits back to the unitholders. They are also one of the holdings of the one percent. That's a bonus in the world of investing because it means frequent dividend increases and price support.
There are many kinds of MLPs, but this one transports oil and natural gas over pipelines throughout the country. If you've read about the Keystone pipeline recently, it is in a similar line of business. The government gave tax advantages to these companies to decrease our reliance on foreign oil. Well, we seem to have accomplished this, and there is an oversupply of the stuff lately. 
But that doesn't matter, because it's still getting used, and Enterprise is still getting paid to transport it, regardless of what the price of oil is doing these days. That's why I'm an owner, and according to this article, 90% of analysts rate Enterprise a buy. Well I already own them, and I had bought more this morning before I ever saw that news, so I take that to mean that I am smarter than those analysts. 
I also have an automatic system in place to buy more when the price is good. Every payday, I list my investments by ranking of what is down the most overall. This week, EPD was pretty high up there. So I increased the number of shares I was holding by 50%. Now I'm earning more in dividends each quarter, and I got a better price to boot. When the price eventually recovers I'll have that going for me too. 
Enterprise closed up 97 cents today to $26.80/share, and has a dividend yield of 5.96%.
If you like being smarter than 90% of the analysts out there, why not follow my posts?