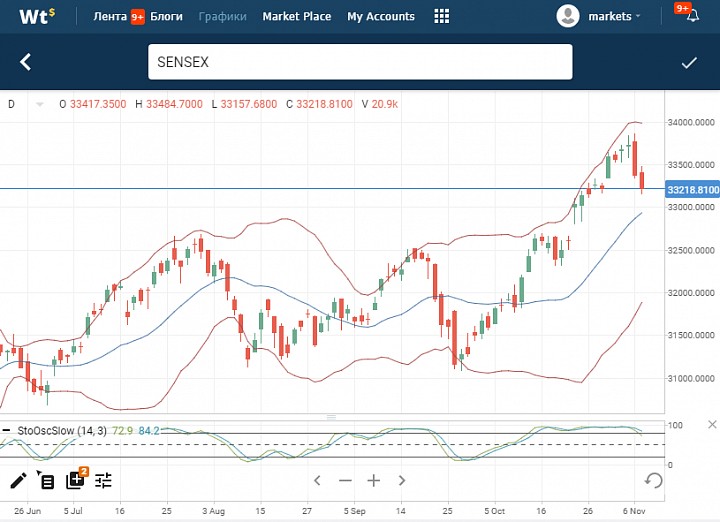 The Indian stock market posted moderate losses on Wednesday, November 8, paring earlier gains as the benchmarks came under pressure from a decline in refineries as well as other heavyweights such as Bharti Airtel.
In sectoral terms, technology and IT names traded higher, while metals and telecom stocks, power utilities and O&G companies underperformed the broader market.
Recapping the benchmarks, the Nifty 50 retreated 0.45% to 10,303.15, and the BSE Sensex closed 0.46% lower at 33,218.81.
By 10:41 GMT, the USD/INR currency pair eased 0.28% to 64,985, while EUR/INR dipped 0.04% to 75.3514. The 10-year Indian government bond yield widened to 6.938%.
Refineries sank on expectations that oil prices will continue to rise, while the OPEC oil production cut deal will be extended. In particular, Reliance Industries and Hindustan Petroleum shed 2.0% and 2.2%, respectively.
Bharti Airtel, owned by billionaire Sanil Bharti Mittal, plunged 3.7% on reports that Qatar Foundation intends to sell a 5% equity stake in the company.
Meanwhile, banking names corrected higher after a two-session decline. Specifically, Axis Bank and IndusInd Bank surged 3.4% and 1.0%, respectively.
The daily chart shows that the BSE Sensex has formed a bearish candlestick pattern and is heading further south, while the Slow Stochastic Oscillator is about to exit overbought territory. As a result, the benchmark still holds downside potential.