Buffalo Wild Wings (BWLD) has been bearish in 2017. If we look at the weekly chart, we can see that BWLD has been developing a large price top since 2014. It looks like a head and shoulders pattern, or simply a rounded top.

BWLD Weekly Chart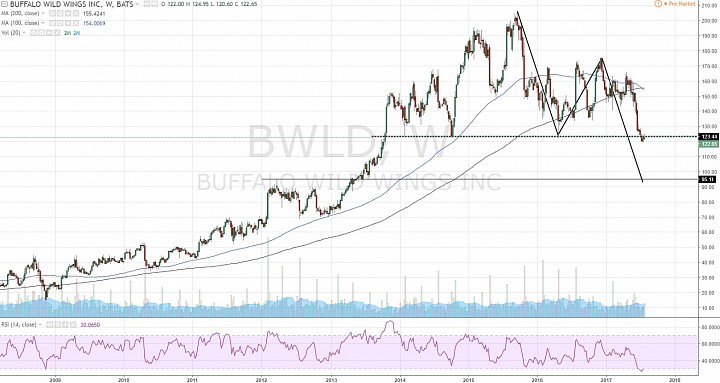 (click to enlarge)

ABC Projection:
- Other than a price top, we could also be seeing the development of the C wave in an ABC correction.
- If C and A are similar, then the projection goes to 95, which is also near a previous consolidation resistance.
- I would be less aggressive with the bearish outlook and expect some buying if price gets to the 100, psychological level.
- Right now, price is consolidating between 120 and 125. A break above 125 might bring some short-term bullish correction towards 130-135, but the overall mode might still be bearish with downside towards 100.
- A break below 120 should continue the 2017 bear run that started at the end of April.
Note that BWLD is under pressure this week after it missed Q2 earnings expectations and lowered its guidance.