Cambridge, MA-based Merrimack Pharmaceuticals, Inc. MACK is a biopharmaceutical company focused on the discovery, development and commercialization of innovative therapies in combination with companion diagnostics for the treatment of cancer.
With sale of Onivyde, Merrimack is now a developmental stage company. The company will now focus its resources on the development of its three pipeline candidates – MM-121/seribantumab (heregulin-positive, locally advanced or metastatic non-small cell lung cancer (NSCLC), MM-141/istiratumab (pancreatic cancer) and MM-310 (solid tumor). The company's topline comprises mainly collaboration revenues and milestone payments.
Merrimack's track record has been mixed so far with a four-quarter average negative earnings surprise of 65.44%. The company has missed estimates thrice in the last four trailing quarters while beating the same once.
Currently, Merrimack has a Zacks Rank #4 (Sell), but that could definitely change following the company's earnings report which was just released. We have highlighted some of the key stats from this just-revealed announcement below:
Earnings: Merrimack reported a significantly narrower than expected third-quarter loss. The company reported a loss of 40 cents per share, narrower than our consensus estimate of $1.88.
Revenues: Merrimack did not record any revenues in the quarter due to sale of Onivyde. The consensus estimate stood at $18 million.
Key Stats: Research and development expenses were down 51.8% y/y to $13.6 million. General and administrative expenses were also down 47.8% y/y to $3.4 million during the quarter. The company's non-small cell lung cancer candidate, MM-121, was granted orphan drug designation by the FDA. Moreover, the company resolved a convertible note litigation related to asset sale to Ipsen.
Share Market Activity: The shares of the company were inactive in pre-market.
2017 Guidance: Merrimack expects its current financial resources along with anticipated milestone payments from Shire will be sufficient to fund its operations at currently forecasted spending rates into the second half of 2019.
Merrimack Pharmaceuticals, Inc. Price and EPS Surprise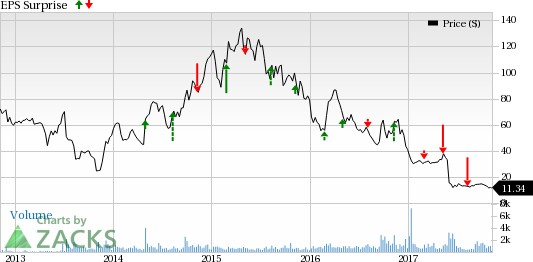 Merrimack Pharmaceuticals, Inc. Price and EPS Surprise | Merrimack Pharmaceuticals, Inc. Quote
Wall Street's Next Amazon
Zacks EVP Kevin Matras believes this familiar stock has only just begun its climb to become one of the greatest investments of all time. It's a once-in-a-generation opportunity to invest in pure genius.
Want the latest recommendations from Zacks Investment Research? Today, you can download 7 Best Stocks for the Next 30 Days.
Click to get this free report
Merrimack Pharmaceuticals, Inc. (MACK): Free Stock Analysis Report
To read this article on Zacks.com click here.
Zacks Investment Research