Anthem Gets Its Deal: A Merger with Cigna Is Now Pending
The annualized return is probably about right
In this interest rate environment, a 16.5% annualized return is probably about as good as you're going to get. It means there's a lot of risk to the Cigna–Anthem merger. As discussed earlier in this series, the risk-to-reward ratio appears to be something like 1.5:1, which in normal circumstances is a no-brainer. However, that risk-to-reward ratio is understated due to the possibility of UnitedHealth Group (UNH) coming in to take over Anthem (ANTM), leaving Cigna (CI) by itself at the altar.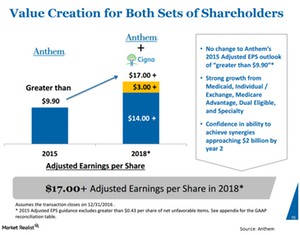 How do you trade deals like this?
Generally speaking, arbitrageurs aren't going to have huge positions in deals like this, where there's so much risk. Arbs...
More