On Aug 11, 2017, we issued an updated report on Nektar Therapeutics NKTR, a biopharmaceutical company, focused on development of treatments by utilizing PEGylation and advanced polymer conjugate technology platforms.
Nektar's shares have significantly outperformed the industry so far this year, having surged 48.9%, while the industry registered a decrease of 3.4%.

The company's portfolio comprises two drugs – Movantik for opioid-induced constipation (OIC) and Adynovate for treating hemophilia A.
Nektar has a global license agreement with AstraZeneca AZN under which, the latter was granted with a worldwide, exclusive, license to develop, market and sell rights for Movantik as well as fixed-dose combination products.
The company also has a licensing, collaboration and manufacturing contract with Shire plc SHPG for Adynovate. It receives royalties and sales milestones related to both the drugs.
Also, Nektar has made a significant progress with its lead candidate, Onzeald (formerly known as NKTR-102), currently under accelerated assessment in the EU for treating adults with advanced breast cancer as well as brain metastases. A response is anticipated soon.
Nektar has also initiated a randomized phase III confirmatory study (ATTAIN) on Onzeald, compared with the single-agent chemotherapy of physician's choice. The trial is being conducted on patients with advanced breast cancer, who shortly complain of brain metastases. Positive results from this study could support a regulatory filing in the U.S.
The company is further developing several other candidates across important therapeutic areas including oncology, pain, anti-infectives and immunology. Interesting ones include NKTR-181 (phase III – chronic pain), NKTR-214 (phase I/II – solid tumor) and NKTR-358 (phase I-autoimmune disease).
We remind investors that in July, Nektar announced positive top-line results from an oral human abuse potential (HAP) study on NKTR-181 in order to assess the abuse potential compared with oxycodone. Notably, the FDA granted a Fast Track designation to the NKTR-181 development program.
Successful development and commercialization of these candidates will in turn boost the company's top line, considering the lucrative markets they are targeting.
Importantly, Nektar entered into a co-development deal with Eli Lilly and Company LLY for NKTR-358 this month. Pursuant to this agreement, Nektar will be responsible for completing the ongoing phase I study on the candidate. However, going forward with the phase II study on the same, Lilly will be capturing 75% of the total costs to possibly lower the company's development expenses on NKTR-358.
However, Nektar's proprietary market products as well as the candidates under development are subject to stiff competition from various pharmaceutical and biotechnology companies.
The company is expected to face intense rivalry in the pain market with several manufacturers developing pain therapies. Competitors include Collegium Pharmaceutical's Xtampza and Teva Pharmaceutical's naproxen to name a few. Also, players in PEGylation and polymer conjugate chemistry technology space are Biogen (BIIB), Savient Pharmaceuticals, Dr. Reddy's and Novo Nordisk among others.
Nektar's heavy reliance on partners for revenues remains a concern, since partnership-related setbacks may seriously weigh on the company.
Nektar Therapeutics Price and Consensus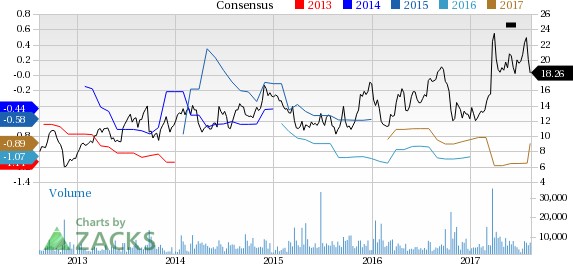 Nektar Therapeutics Price and Consensus | Nektar Therapeutics Quote
Zacks Rank
Nektar currently carries a Zacks Rank #3 (Hold). You can see the complete list of today's Zacks #1 Rank (Strong Buy) stocks here.
5 Trades Could Profit "Big-League" from Trump Policies
If the stocks above spark your interest, wait until you look into companies primed to make substantial gains from Washington's changing course.
Today Zacks reveals 5 tickers that could benefit from new trends like streamlined drug approvals, tariffs, lower taxes, higher interest rates, and spending surges in defense and infrastructure. See these buy recommendations now >>
Want the latest recommendations from Zacks Investment Research? Today, you can download 7 Best Stocks for the Next 30 Days.
Click to get this free report
Astrazeneca PLC (AZN): Free Stock Analysis Report
Eli Lilly and Company (LLY): Free Stock Analysis Report
Shire PLC (SHPG): Free Stock Analysis Report
Nektar Therapeutics (NKTR): Free Stock Analysis Report
To read this article on Zacks.com click here.
Zacks Investment Research