The Euro looks to have gotten its groove back in today's session advancing against most of its major rivals (excluding the Aussie).
Let's look at the prized EUR/USD in the 4-hour timeframe.
<!== INSTRUMENT %% %240% ==!>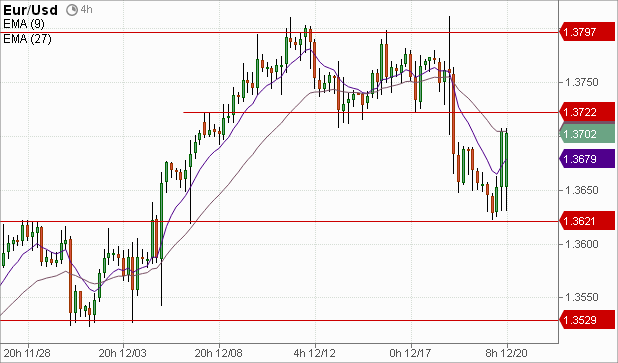 Looking at it after the fact, we had a very nice bounce off a key level of support at 1.3620.

This had been a level of resistance back in late November, was broken, and then acted as support before the start of a nice upswing that topped out near 1.38.

There were enough orders clustered around that level, that it found support. The key question now is, is this a temporary bounce?

The pair had been in a sideways range between 1.38 and 1.37/1.3720 and that range's support may now turn to resistance if the recent downmove extends.

However a move back into the aforementioned range likely means that despite the FOMC tapring, the "dovish" nature of the tapering can still mean a stronger EUR ahead.

Much will depend on whether the Euro-zone data supports such a move and I think the 1.38 will pose a significant challenge.
I don't necessarily have a clear bias, probably more bullish than bearish here, say 60/40, but the technical levels are pretty clear. What do you guys think? Let me know in the comments.