The following presents a list of the 50 top companies on the major US stock exchanges, with each column going by (in order) (1) market capitalization rank, (2) market cap (in billions), (3) 1-day change, (4) 1-month change, and (5) 1-year change.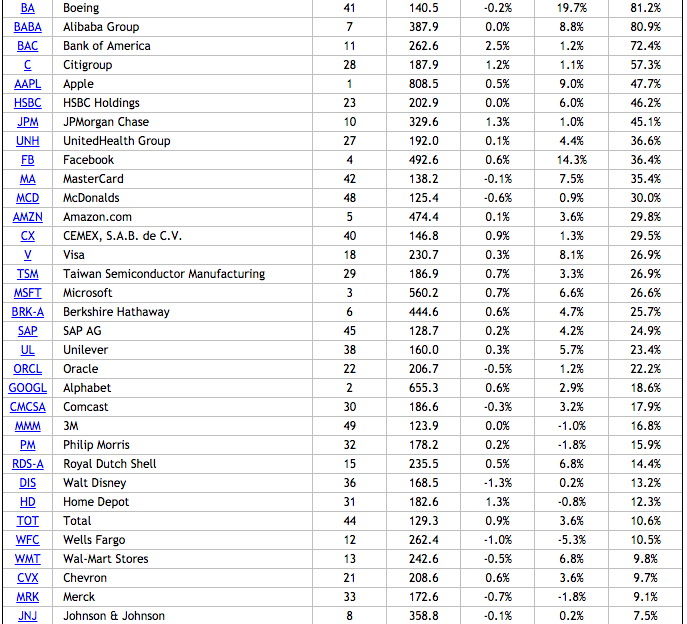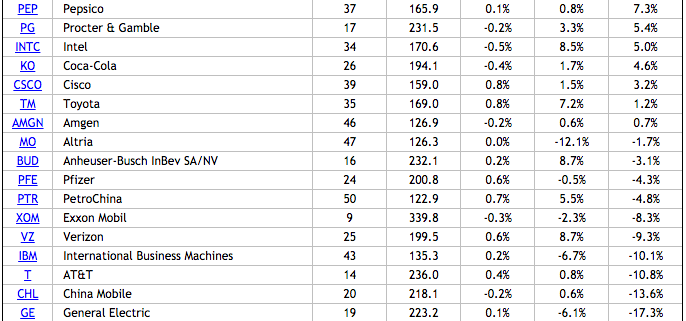 Overall, the market's most valuable companies have outperformed the least valuable, with AAPL, GOOG, MSFT, FB, and AMZN taking over 30% of the gains in the S&P 500 this year.

However, Boeing (BA) is the market's top gainer over the previous year, gaining 82% by virtue of winning various production contracts and aided by its duopolistic market structure (Airbus is its only true competitor).
Chinese retail conglomerate Alibaba (BABA) is up 80% with its massive growth expansion on the Asian continent, where 60% of the world's population resides, as e-commerce usurps standard brick-and-mortar chains.
Big banks have also benefited in the past year, with BAC, C, HSBC, and JPM all up more than 45% in the past year largely due to expectations of a friendlier business regime with the election of Donald Trump, particularly with respect to deregulation. Tax reform has yet to materialize, though is still baked into prices to an extent. The market may still nonetheless be overestimating the extent to which rates will rise in the US.
Electronics payments processors MA and V are both up over 26% in the past year primarily from increased consumer confidence and expectations of better global growth relative to last year's expectations.
Out of the top 50 companies, despite the 20% aggregate gain, 10 have posted losses in the past year. They are disproportionately concentrated in oil (PTR, XOM, GE) and telecom (VZ, T, CHL). Consumer discretionary firms MO and BUD have also lagged, as well as drug developer and manufacturer PFE and declining tech conglomerate IBM.