I came across a bullish article on Exxon Mobil (XOM) this recently. While I do not currently hold any position in the company, it got me thinking about it. I'm more of a small cap, special situation investor so I probably wouldn't consider investing in something like XOM anyhow, having said that if I was a shareholder of XOM, the company's continued investment in the mess that is Russia would concern me greatly.
Exxon Russia Exposure Surges as Long View Outweighs Politics
From the article:
"Exxon Mobil Corp. shook off the chill of sanctions and continued to snap up drilling rights in Russia last year, giving it more exploration holdings in Vladimir Putin's backyard than in the U.S.
Taking the long view, Exxon boosted its Russian holdings to 63.7 million acres in 2014 from 11.4 million at the end of 2013, according to data from U.S. regulatory filings. That dwarfs the 14.6 million acres of rights Exxon holds in the U.S., which until last year was its largest exploration prospect."
Russia's politicians are morally bankrupt. I don't see why anyone would invest a dime of their hard-earned money (even money that wasn't hard-earned for that matter :) ) in the country or anything that is affiliated with it. I certainly wouldn't and I'm not sure why XOM is other than the fact that it can't find anyplace else to put its cash. If you're a friend of Putin there's plenty of money to be made in Russia, but not so much for foreign investors.
To illustrate. Take a look at the a 5-year stock performance of Russian behemoths Lukoil (LUKOY) and Gazprom (OGZPY). Over the past 5 years, the S&P 500 index has returned nearly 75% while Lukoil's ADRs are down 11% and Gazprom's ADRs are down over 50%.
Here's two-year charts of the companies versus the S&P 500 for a closer look at their recent performance: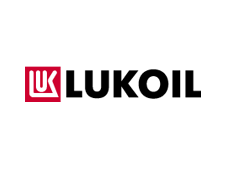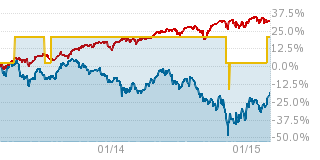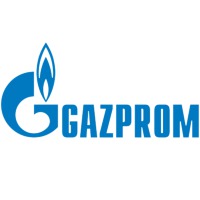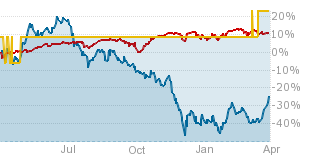 This doesn't even touch upon the morality of giving money to such despicable regime (the politicians and gangsters of Russia, not the citizens). To me, investing in companies that do a ton of business there is akin to investing in a cigarette company. You can do it and it's completely legal, but it doesn't conform to my personal standards.
Exxon traces its roots back to the Standard Oil Company, which was founded in the United States by a number of individuals including John D. Rockefeller. While controversial, there's no debating that Standard Oil and later Exxon were massive, successful American companies that contributed to the growth of the country. That makes it even more painful to read statements from the company like this:
"We don't take sides in any geopolitical events," Tillerson said of the conflict in Ukraine in a meeting with reporters a year ago. "We have navigated these kinds of challenges before."
As an American company I don't think that Exxon has the luxury to not take sides in the conflict between Russia and the West. If Exxon had been managed properly, it would be taking much greater advantage of the drilling renaissance that has occurred in the United States over the past decade, contributing to our country's energy independence rather than giving money to people who hate us. At the very least, it would be wise for XOM to snatch up some of the financially troubled oil and gas companies here in the U.S. on the cheap after the recent commodity price implosion, yet I have seen no evidence of the company investing much at all in America.
I know that I have said in my previous posts that I enjoy purchasing stock in companies that have seen their shares take significant hits. Well, Russian companies are definitely an exception to this rule. Shares of Russian companies have even rebounded nicely lately and the renowned world traveler / investor Jim Rogers even recently said that he thinks that now might be a good time to invest in Russia. I don't care.  Companies in that country are terrible stewards of shareholder capital and the country's leaders have no respect for foreign investors. You can add Exxon to Russian companies and Business Development Companies aka BDCs on the list of stock sectors that I personally wouldn't touch with a ten foot pole.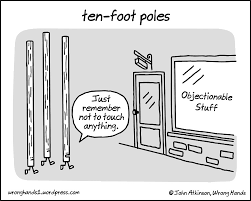 To tie things back to the title of this post, the world's most famous investor, Warren Buffett, recently sold $3.7 BILLION dollars with of ExxonMobil stock that was owned by Berkshire Hathaway (BRK-B or BRK-A for you fancy pants folks). He claims that he still thinks that XOM is a wonderful company, but that he had better places to put the money. I think that others have better places to put their money as well, I know that I certainly do.
Warren Buffet dumps $3.7 billion of ExxonMobil stock, says it's a 'wonderful company'
http://petroglobalnews.com/2015/03/warren-buffet-dumps-3-7-billion-of-exxonmobil-stock-says-its-a-wonderful-company/