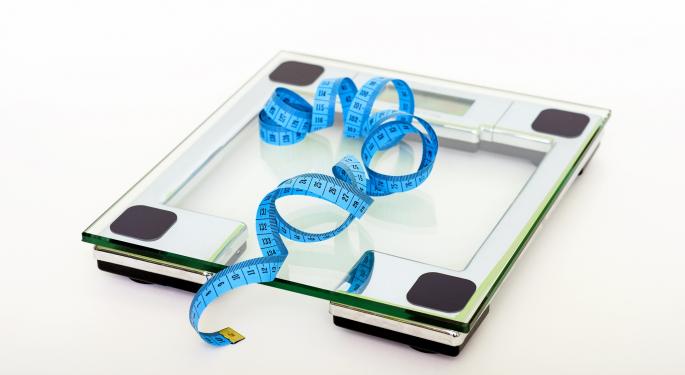 The New York Post chronicled Sara Pereda, a 35-year native of New York City who works in finance and says the Weight Watchers International, Inc. WTW 2.43%'s program made her gain, not lose, weight.
Pereda was 12 pounds heavier in April 2015, 8 years after losing 7 pounds on the Weight Watchers program. According to the New York Post, Pereda is far from the only person claiming that the program is a failure.
The Post cited Ariane Hundt, a trainer and nutritionist, who claims that the Weight Watchers program can damage a person's metabolism, which makes losing weight and keeping it off very difficult.
In fact, Hundt created a specific program meant just for clients that have been through a Weight Watchers program.
"When clients come in that did Weight Watchers, they usually have a high body-fat percentage and have lost a lot of muscle due to lack of protein, low calorie intake and lack of strength training," Hundt said. "When you lose muscle, your metabolism slows down. Eating less and being active only works for so long."
There Is No One-Size-Fits-All Routine
Anyone that has lost weight, or struggled with weight loss, can attest there is no magic "one-size fits all" formula.
The New York Post quoted Erin Palinski-Wade, a registered dietitian, who suggested that the Weight Watchers program "has been one of the only commercial weight-loss programs to show long-term success for a high number of participants."
Weight Watchers Stock Loses Weight
Meanwhile, shares of Weight Watchers have plunged more than 45 percent since the start of 2016. However, the stock is higher by more than 200 percent over the past year.
Weight Watchers' stock soared higher last October after the company announced that Oprah Winfrey acquired a 10 percent stake in the company and would join the board of directors.
Did you like this article? Could it have been improved? Please email feedback@benzinga.com to let us know!
© 2016 Benzinga.com. Benzinga does not provide investment advice. All rights reserved.