Best Buy (BBY) has been bullish in 2017, but consolidated in June and July. In August, it looks ready to push into new highs on the year.

Best Buy (BBY) Daily Chart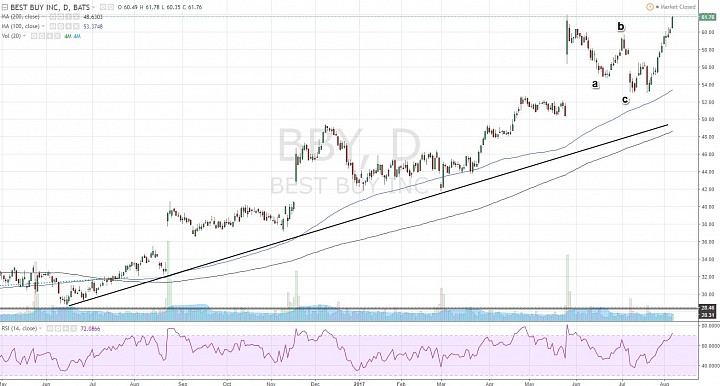 (click to enlarge)
ABC Correction:
- Last time we looked at BBY, we noted that it completed an ABC correction.
- We also noted that the RSI was right around 40, where it should turn up if the overall bullish momentum is still in play.
- Finally, the 53 area was just above a previous resistance, so it had a good chance to turn into support.
- We were right in anticipating support here, though price has to test that 53 area a couple of times before springing up.
- It should be noted that a new high on the year is also going to be a historic high.
- At this point, if there is a bearish correction, we should anticipate support around 59-60, or in the case of a more aggressive bearish correction, around the 56-57 area.