AMC Entertainment Holdings, Inc. AMC is slated to report third-quarter 2017 results on Nov 6, after the closing bell.
The leisure and recreation services company has a positive earnings surprise history. AMC Entertainment beat the Zacks Consensus Estimate in three of the four trailing quarters, with an average of 120.13%. However, in the last reported quarter, the company reported negative earnings surprise of 1.50%.
Let's see how things are shaping up for this announcement.
Factors at Play
AMC Entertainment is one of the largest theatrical exhibition companies in the United States, Europe and globally with approximately 1,000 theaters and 11,000 screens. The company successfully operates theaters in 15 European countries and is the market leader in 22 of the 25 largest metropolitan areas of the United States, including the top three markets (New York, Los Angeles and Chicago). The company is also an industry leader in innovation and operational excellence.
Further, AMC Entertainment has been actively involved in the renovation and refurbishing of multiplexes through enhancements like reclining seats, improved food and beverages, dine-in theaters as well as advanced sound and digital equipment. To this end, the company has announced its latest addition — AMC Tech Ridge 10 — in alliance with Seritage Growth Properties SRG. The new theatre is scheduled to begin construction later this year and is anticipated to open in 2019 in Austin, TX.
Meanwhile, the judgement in favor of AMC Entertainment by Texas District Court marks a victory for the company. Completion of the $130-million sale-leaseback transaction of 7 U.S. theatres should help the company in enhancing overall liquidity position, funding the buyback of shares, paying its debt and fueling growth through deployment of strategic initiatives.
AMC Entertainment's initiative to identify approximately $400-million non-strategic assets and monetize them strategically and systematically looks impressive. The company sold 12 million shares of National CineMedia, Inc's NCMI common stock to Standard General, L.P. for approximately $73.1 million. AMC Entertainment also sold 2.8 million shares of National CineMedia, Inc's common stock to an undisclosed American buyer for approximately $18.2 million.
We also appreciate the company's efforts to offer a quarterly cash dividend of 20 cents on shares of Class A and Class B common stock for the quarter ended Sep 30, 2017. The dividend will be paid in cash on Dec 18, 2017, to shareholders of record as on Dec 4, 2017. It will mark the fifteenth consecutive dividend payout since the company's initial public offering.
Despite such favorable prospects, the price performance of AMC Entertainment looks unimpressive. In the past three months, shares of AMC Entertainment have declined 10.9%, as against the industry's increase of 2.3%.
However, the latest strategy adopted by Hollywood studios (film makers) is a major setback to the movie theater (exhibitor) industry. It involves making the latest releases available for home viewing at a premium rate within two weeks of debut. Moreover, being part of the entertainment industry exposes the company to macroeconomic fluctuations. AMC Entertainment competes with major theatrical exhibitors like Cinemark Holdings Inc., Live Nation Entertainment Inc. and Regal Entertainment Group.The company also faces threats from alternative movie streaming services such as Netflix, Inc, Time Warner Inc.'s HBO Now and Hulu. Despite the recent shift in audience preference toward streaming services, film studios seek better bargains with large-screen theater companies. This might hamper the company's profitability.
Earnings Whispers
Our proven model does not conclusively show that AMC Entertainment is likely to beat the Zacks Consensus Estimate this quarter. This is because a stock needs to have both a positive Earnings ESPand a Zacks Rank #1 (Strong Buy), 2 (Buy) or 3 (Hold) for this to happen. Unfortunately, that is not the case here as elaborated below.
Zacks ESP:AMC Entertainment has an Earnings ESP of -9.38%. This is because the Most Accurate estimate is at a loss of 37 cents and the Zacks Consensus Estimate is pegged at a loss of 34 cents. You can uncover the best stocks to buy or sell before they're reported with our https://www.zacks.com/premium/esp-buy?adid=zp_article_espfil...">Earnings ESP Filter.
Zacks Rank: AMC Entertainment has a Zacks Rank #3 which increases the predictive power of ESP. However, the company's negative ESP makes surprise prediction difficult.
We caution against Sell-rated stocks (Zacks Rank #4 or 5) going into the earnings announcement, especially when the company is seeing negative estimate revisions.
AMC Entertainment Holdings, Inc. Price and EPS Surprise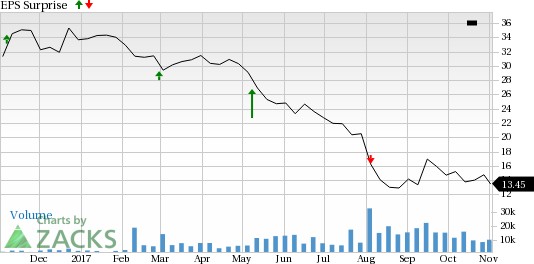 AMC Entertainment Holdings, Inc. Price and EPS Surprise | AMC Entertainment Holdings, Inc. Quote
Key Pick
Here is a company from the broader Consumer Discretionary sector— which houses AMC Entertainment— which has the right combination of elements to post an earnings beat this quarter.
DISH Network Corp DISH is expected to release third-quarter 2017 results on Nov 8. The company has an Earnings ESP of +1.68% and a Zacks Rank #3. You can see https://www.zacks.com/stocks/buy-list/?ADID=zp_1link&ICI... _1link">the complete list of today's Zacks #1 Rank (Strong Buy) stocks here.
The company's earnings beat the Zacks Consensus Estimate in two of the previous four quarters, with an average beat of 0.76%.
Zacks' Best Private Investment Ideas
While we are happy to share many articles like this on the website, our best recommendations and most in-depth research are not available to the public.
Starting today, for the next month, you can follow all Zacks' private buys and sells in real time. Our experts cover all kinds of trades… from value to momentum . . . from stocks under $10 to ETF and option moves . . . from stocks that corporate insiders are buying up to companies that are about to report positive earnings surprises. You can even look inside exclusive portfolios that are normally closed to new investors.
Click here for Zacks' private trades >>
Want the latest recommendations from Zacks Investment Research? Today, you can download 7 Best Stocks for the Next 30 Days.
Click to get this free report
National CineMedia, Inc. (NCMI): Free Stock Analysis Report
DISH Network Corporation (DISH): Free Stock Analysis Report
AMC Entertainment Holdings, Inc. (AMC): Free Stock Analysis Report
Seritage Growth Properties (SRG): Free Stock Analysis Report
To read this article on Zacks.com click here.