Senate Republican leaders released a revised plan for President Donald Trump's health care reform, on Jul 13. The release was based on the The Republican administration's vow to "repeal and replace" the 2010 Affordable Care Act, popularly known as Obamacare.
Earlier, Donald Trump and Republican Party leaders had to suffer setbacks with the healthcare bill for the replacement of Obamacare after failing to garner enough votes to pass the bill. A key concern with the new health care act is that a large number of Americans would lose coverage.
The concern was further justified by a report issued by the Congressional Budget Office. According to the report, if the new act were to go through, 14 million people would be uninsured in 2018. The number is expected to increase to 21 million in 2020 and 24 million in 2026.
For Republicans it is now a race against time as the scheduled summer recess is knocking at the door. However, plans have already been chalked to delay the process and pass the bill through Senate.
The GOP's new plan proposes major changes versus its original proposal to replace Obamacare. These changes include allowing insurers to offer cheaper services, no frills policies, taxing the wealthy and extra funding for opioid. The revision was made in an effort to garner more conservative support. However GOP'S internal misgivings about the plan alongside steep democratic opposition have put a question mark on the fate of the revised bill.
Effect on Hospital Stocks
The question that arises now is whether hospital stocks stand to gain or lose on Capitol Hill. The market remained jittery for a major part of the week due to the uncertainty surrounding the future of the healthcare act. Hospital stocks, which were suffering after election results were announced on Nov 8, 2016, were lukewarm over the proposed changes. These stocks benefited significantly under Obamacare, given the rise in the number of people with health insurance coverage.
Supporters for the Republican alternative argue that if the proposed changes are implemented, the sector would get paid for several services that earlier were free of charge. Opponents point out that the customer base would shrink as a significant chunk of the population would lose their healthcare coverage.
We believe that major hospital stocks like Universal Health Services, Inc. UHS, HCA Holdings, Inc. HCA, LifePoint Health Inc. LPNT, Tenet Healthcare Corp. THC and Community Health Systems, Inc. CYH will suffer immensely. The stocks will be affected because the no frills insurance policy would be akin to an increase in the uninsured rate. With bare bone insurance policies, patients will have less insurance coverage and must shell out from their pockets to avail of medical services. This would lead to an increase in bad debts.
Medical - Hospital Industry 5YR % Return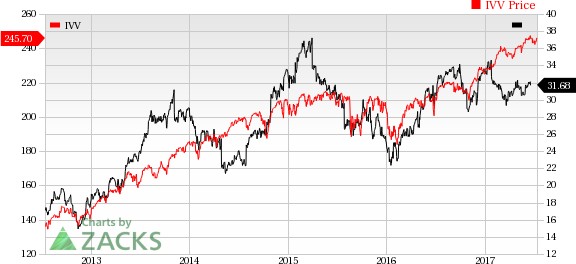 The market perception can be gauged from the fact that only Acadia Healthcare Company, Inc. ACHC currently carries a Zacks Rank #2 (Buy). You can see the complete list of today's Zacks #1 (Strong Buy) Rank stocks here. Overall the Zacks classified Medical-Hospitals sub-industry posted a meager gain of only 0.7% over the past three months. Also, the current level compares unfavorably with the S&P 500's return of 4.2% over the same time frame.
More Stock News: This Is Bigger than the iPhone!

It could become the mother of all technological revolutions. Apple sold a mere 1 billion iPhones in 10 years but a new breakthrough is expected to generate more than 27 billion devices in just 3 years, creating a $1.7 trillion market.

Zacks has just released a Special Report that spotlights this fast-emerging phenomenon and 6 tickers for taking advantage of it. If you don't buy now, you may kick yourself in 2020. Click here for the 6 trades >>
Want the latest recommendations from Zacks Investment Research? Today, you can download 7 Best Stocks for the Next 30 Days.
Click to get this free report
Universal Health Services, Inc. (UHS): Free Stock Analysis Report
Tenet Healthcare Corporation (THC): Free Stock Analysis Report
Community Health Systems, Inc. (CYH): Free Stock Analysis Report
LifePoint Health, Inc. (LPNT): Free Stock Analysis Report
Acadia Healthcare Company, Inc. (ACHC): Free Stock Analysis Report
HCA Holdings, Inc. (HCA): Free Stock Analysis Report
To read this article on Zacks.com click here.
Zacks Investment Research