About. Alcoa is the world's leading producer of primary and fabricated aluminium; company is also the largest bauxite miner and alumina refiner. It employs around 61k people in 30 world countries. Sales volume in 2012 - US$23.7 bln.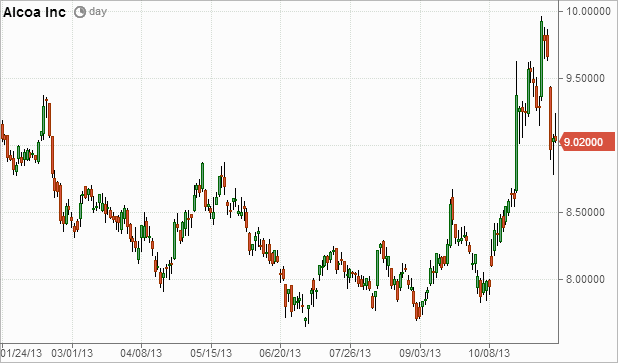 Alcoa outlook for YE2013.
Company forecasts growth in the global end markets:
Aerospace segment is expected to grow by 9-10% yoy;
Automotive production growth rate will be near 1-4% yoy; Europe will show 2-5% decline though;
The biggest driver for Heavy Truck & Trailer segment is China (+12-16% yoy), while North America and Europe decreasing; global segment to grow by 3-8%;
Beverage Can/Packaging growth expected to be slightly higher yoy, at 1-2%;
Commercial building and Construction, as well as Industrial Gas Turbine segments will both grow by 3-5%.
Investment case. We see some points that make Alcoa's shares attractive investment in the long-term perspective.
Company has extremely strong relationships in the Commercial Aerospace area

After Paris Air Show this year Alcoa received over 900 new orders and/or commitments from Airbus and Boeing for total volume of c.US$135 bln, current backlog is 8 years;
Another portfolio of orders and commitments with engines' producers – Pratt & Whitney (over 1000 engines), GE & Partners (US$26 bln in deals), Rolls-Royce (US$5 bln in deals);
Demand is strongly supported by emerging markets and fuel efficiency;

Auto demand expected to continue growing strongly in upcoming quarters;
Company successfully maintains multiple-level cost reduction strategy, which expected to save US$540 mln in costs comparing to previous year (reduction by 40%).
Target price. Our 12-months target price for Alcoa stock (AA US Equity) is $10 per ordinary share.