There was not much out of today's Bank of England (BoE) statement. The Monetary Policy Committee concluded the 2-day meeting with a vote to hold its benchmark rate at the historic low of 0.50% and the asset purchase program at £375 billion. Traders will now turn their attention to next week's inflation report (2/12). The minutes to today's vote will be released 2/18. 
The GBP/USD started the week putting in a price bottom and rallying above it and the 1.51 level. Then, it turned bullish but slowed down heading into the BoE statement. Afterwards, cable looks to be resuming this week's uptrend.
GBP/USD 30 mins Chart 2/5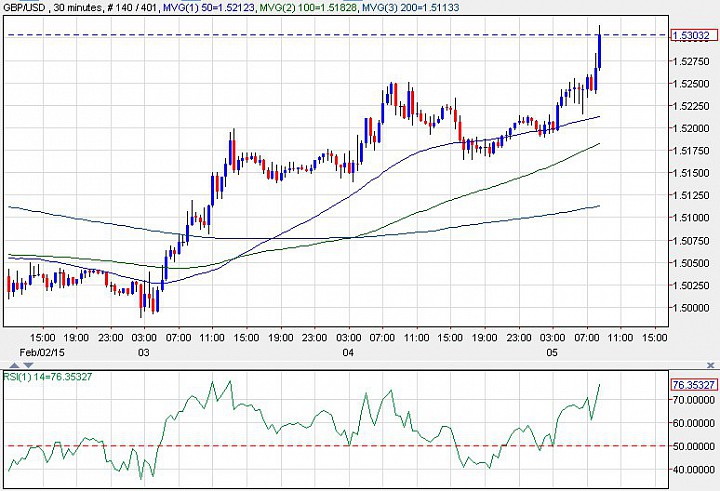 (click to enlarge)
As GBP/USD presses up on 1.53, it is also testing a falling trendline coming down from the 1.7190, July 2014 high. Ahead of tomorrow's NFP, there might be some resistance here, given some elbow space. 
Now, after the NFP, if price holds above 1.53, there would be upside risk towards the 1.55-1.5540 area, which represents some previous lows. However, if the NFP is strong like, such as a reading of 250K or above, the GBP/USD has more likelihood of returning back below 1.53, and if it continues to retreat below 1.52, the bearish outlook might be revived. The pressure would return towards the 1.4950-1.50 lows. 
A weak NFP, with a print near 200K, or lower, might allow the GBP/USD to clear and stay above the falling trendline.
GBP/USD Daily Chart 2/5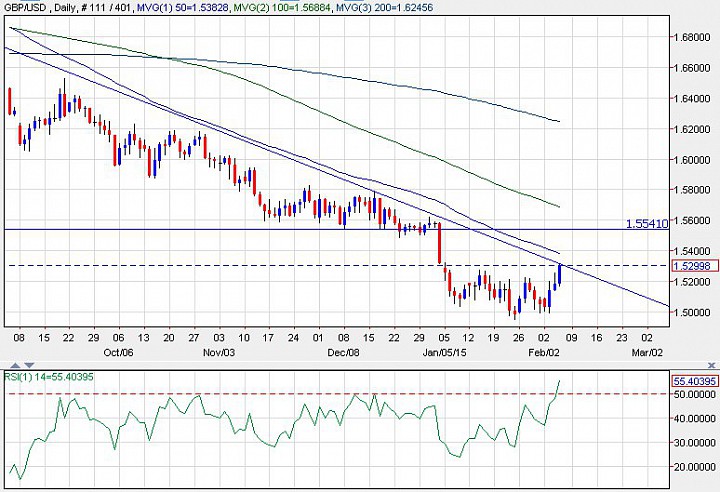 (click to enlarge)