Update: the company's first official denial has just hit: VOLKSWAGEN SPOKESMAN:REPORT CEO TO BE REPLACED RIDICULOUS: RTRS  ... although at this point it is virtually assured that many executives' heads will roll.
* * *
Earlier today, as widely reported, Volkswagen released the following official meal culpa which also quantified, for the first, time the company's preliminary expected exposure to the scandal fallout: €6.5 billion.
Volkswagen is working at full speed to clarify irregularities concerning a particular software used in diesel engines. New vehicles from the Volkswagen Group with EU 6 diesel engines currently available in the European Union comply with legal requirements and environmental standards. The software in question does not affect handling, consumption or emissions. This gives clarity to customers and dealers.

 

Further internal investigations conducted to date have established that the relevant engine management software is also installed in other Volkswagen Group vehicles with diesel engines. For the majority of these engines the software does not have any effect.

 

Discrepancies relate to vehicles with Type EA 189 engines, involving some eleven million vehicles worldwide. A noticeable deviation between bench test results and actual road use was established solely for this type of engine. Volkswagen is working intensely to eliminate these deviations through technical measures. The company is therefore in contact with the relevant authorities and the German Federal Motor Transport Authority (KBA – Kraftfahrtbundesamt).

 

To cover the necessary service measures and other efforts to win back the trust of our customers, Volkswagen plans to set aside a provision of some 6.5 billion EUR recognized in the profit and loss statement in the third quarter of the current fiscal year. Due to the ongoing investigations the amounts estimated may be subject to revaluation.

 

Earnings targets for the Group for 2015 will be adjusted accordingly.

 

Volkswagen does not tolerate any kind of violation of laws whatsoever. It is and remains the top priority of the Board of Management to win back lost trust and to avert damage to our customers. The Group will inform the public on the further progress of the investigations constantly and transparently.
Or, visually: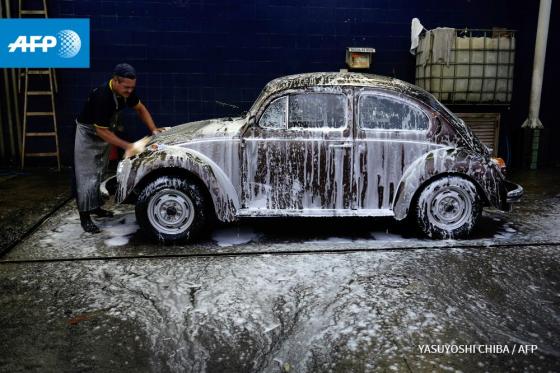 This follows a few hours after the CEO of Volkswagen US did what few other companies have ever done: apologized, when he said "we have totally screwed up" in using software to rig emissions tests.
Then in a report released moments ago, Credit Suisse was non-plussed with Volkswagen's charge, stating the final figure could be far greater but in the meantime both the company's balance sheet and its dividend are at risk:
... The US emissions scandal is becoming a wider problem for VW. VW confirmed the violating software is present in 11m global vehicles. The company is taking a €6.5bn provision to cover the cost of service measures, although this is unlikely to be the final figure in our view. With further charges from potential regulatory penalties, civil litigation, and market share losses, this figure could be exceeded by far. This in turn will likely put pressure on VW's balance sheet and dividend payments.

 

Financial implications could be material: The balance sheet is at significant risk to deteriorate beyond the impact of the €6.5bn provision the company has announced so far. With group free cash flow generation largely dependent on China (we estimate 94% of industrial free cash flow – 78% dividend from JV), there could be increasingly risk to dividend payments.

And with typical, if tainted, German efficiency, moments ago Bloomberg blasted the latest news out of Germany's Tagespiegel, which reported that Volkswagen CEO Winterkorn...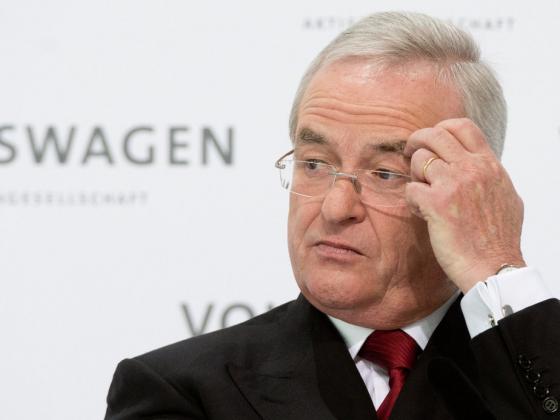 ... will be replaced by Matthias Mueller, the CEO of Porsche, as soon as this Friday.
VW CEO WINTERKORN TO BE REPLACED BY MUELLER: TAGESSPIEGEL
VW CEO WINTERKORN TO BE REPLACED ON SEPT. 25: TAGESSPIEGEL
At this point GM CEO, whose company was recently found guilty in the deaths of over 170 people, Mary Barra is forgiven if she decides to leave the room.
* * *
So what happens next? Here is Saxo Bank's Peter Garnry with his take on next steps for the embattled iconic carmaker:
What's next for scandal-ridden Volkswagen?
Volkswagen shares lose 22% on US diesel imbroglio
Global scale of VW's legal liability not yet known
Scandal-driven stock collapses usually mean-revert higher
It has been a volatile year for Volkswagen. The German carmaker started the year like a rocket fueled by the European Central Bank's new quantitative easing programme to lower the EUR exchange rate and assure continued credit growth.
Following the peak in March, continuous bad news from China and slowing economies set in motion a massive decline in the share price ending with a big splash yesterday with shares down as much as 22% following the revelation that Volkswagen's US business had cheated US regulators on how much emission its diesel vehicles produce.
Including today's declines, around $19 billion in market value has been erased and it certainly begs the question of what is likely to happen.
Volkswagen share price in 2015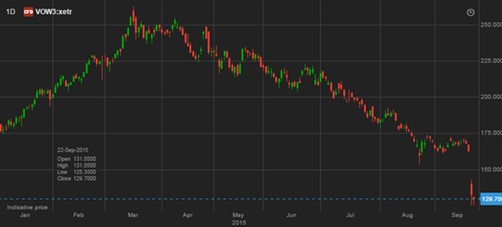 Source: Saxo Bank
Massive uncertainty
Normally when a scandal hits, the stock price recovers quickly as traders overreact to news. A good example is Standard Chartered on August 7, 2012 when the share price fell as much as 26% intraday on news that the bank had helped the Iranian government to cover up $250 billlion in illegal transactions.
A few weeks later, the bank settled with US regulators and was fined $340 million. As the chart below shows, the share price jumped back to new highs by year-end.
Standard Chartered share price (second half 2012):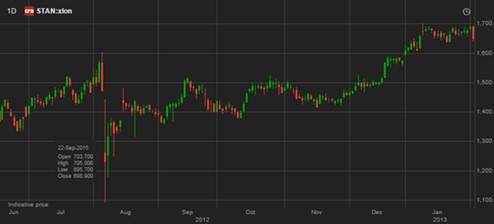 Source: Saxo Bank
So why are buyers not coming to the table in droves when it comes to Volkswagen? The uncertainty is simply much greater and there is no precedent in this case. With Standard Chartered, analysts had a reasonable idea within a few weeks how big the fine could be.
If an automaker violates the Clean Air Act it costs $37,500 per vehicle. Given the number of sold diesel cars, this brings the potential fine to $20 billion. However news out this morning states that other governments such as Australia will now look into the matter and see if their emission standards have been violated by Volkswagen.
In plain language, this may not be an isolated case so the tail risk is just much bigger.
In the worst-case scenario, Volkswagen will be banned from selling diesel vehicles in the US for a certain period such as BNP Paribas was banned from conducting certain USD transactions for a year, on top of a $9 billion fine due to the French bank's involvement in helping Sudan, Cuba and Iran perform said transactions.
The point here is that US regulators are not shy to send a strong signal to companies when they violate the rules. It is in this light that the large declines should be viewed.
What should traders do?
It seems unlikely that US regulators would fine Volkswagen to the tune of $20 billion. The German automaker gets 13.6% of its revenue from North America which means probably around 10-12% from the US. Assuming a pro rata share on profits, Volkswagen makes around €1.1-1.3 billion in profits from its US business.
It would be unheard of to fine a company so disproportionately to its annual profits. As such, it looks like an overreaction in the share price.
What normally happens in these events (short-term) is that mean-reversion strategies kick in and begin buying shares. However, if the selling pressure is too big from long-term investors and short sellers then stops are hit and mean reversion strategies withdraw again quickly.
It is simply not worth it in the short term to supply liquidity.
In little more than a week we are rolling into October and then thousands of longer term quant-driven equity funds will be crunching the numbers. A company like Volkswagen will likely shift into being a very attractive value stock given that no databases will have updated earnings forecasts for FY'16.
As these quant-driven equity funds often have hundreds of positions they do not care about the firm-specific risk tied to this event. As a result, their computer programs will kick in and begin buying Volkswagen shares.
For the next couple of days the share price will wobble as the flow of sellers and buyers arrive at the table. Short-term, it looks like the mean reversion strategies are pulling away and thus only market-makers stand as last defense but they are only providing brief liquidity before flipping the shares. It could take a week for the stock price to settle as the longer term quant-driven equity funds get into action.
But opportunities on the upside will occur, but it requires good timing. We stay on the sideline for now as we already have German carmaker exposure through BMW.