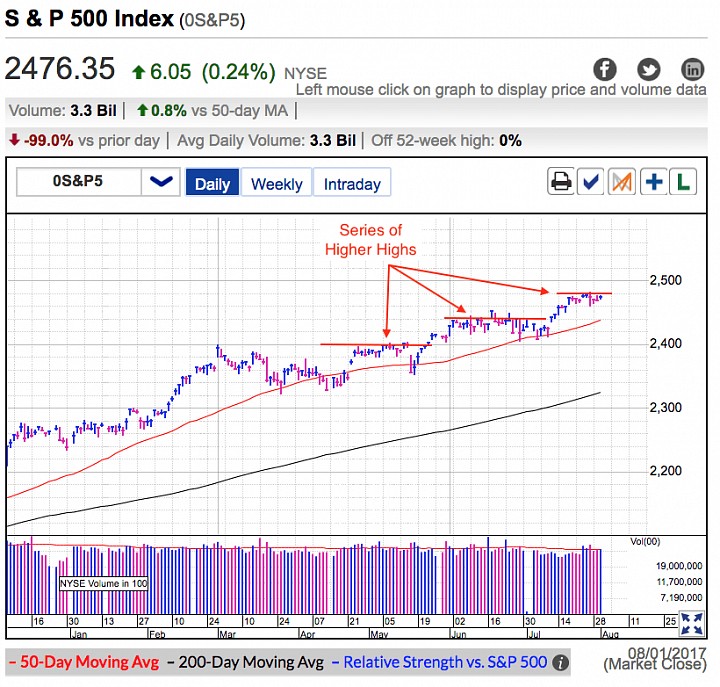 End of Day Update:
The S&P500 added modest gains Tuesday. This strength largely puts last week's "collapse" in the rear-view mirror. Sharp selloffs are breathtakingly quick and this is the fourth day we've held 2,460 support. If this market was vulnerable, we would have tumbled by now.
This resilience won't surprise regular readers of this blog. Confident owners have ignored every other reason to sell stocks this year and nothing changed last week. In fact there really wasn't any news driving Thursday's dip. It was simply a case of reactive traders overreacting to each other. Once this brief bout of weakness passed, hours later dip buyers were back at it. If confident owners showed zero interest in selling rate-hikes and political dysfunction at home and abroad, why would they all of a sudden be spooked out of the market for no reason at all? Answer is they weren't and that's why Thursday's selling reversed so quickly.
While conventional wisdom tell us to fear complacency, what it often leaves out is periods of complacency last far longer than anyone expects. Without a doubt this bull market will die like every other that came before it. But that doesn't mean we cannot go higher in the meantime. These failed selloffs tell us the path of least resistance remains higher and smart traders keep doing what is working.
That said, this is the most nervous I've been since the 2009 lows. Last year's paranoid, half-empty outlook has given way to this assume everything will work...
More