Micron Technology, Inc., is a global leader in advanced semiconductor systems. Micron's broad portfolio of high-performance memory technologies-including DRAM, NAND and NOR Flash-is the basis for solid state drives, modules, multichip packages and other system solutions. Backed by more than 35 years of technology leadership, Micron's memory solutions enable the world's most innovative computing, consumer, enterprise storage, networking, mobile, embedded and automotive applications.
Though the 4th quater of the fiscal year ended with the decrease of income and diluted earnings per share by 31%, we expect the future growth of these financials due to the start of the busy season. This situation can be pleasant for brokers who want to gain from the price spread.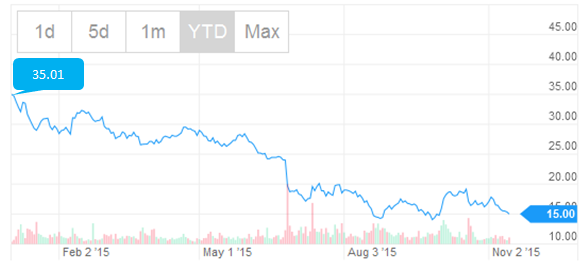 Source: Yahoo Finance
The graph shows the fall in price per share up to 55%. This tendency cannot be ignored by current shareholders, and supply increase is expected.
5-Year statistics also indicates a stable and good enough position of the company in the market.

Source: Google Finance
One more fact which is really important is tomorrow's announcement of Micron Technologies CFO Ernie Maddock at the UBS Global Technology Conference. We do suppose it will influence the price per share in a positive manner.