Overall market volatility is engaged in an interesting divergence pattern, a research piece from Credit Suisse Group AG (ADR) (NYSE:CS) observed yesterday, with market correlation overlaps that investors and traders might want to consider. It shows that volatility in correlated markets is reducing at an uneven pace and stock market volatility attribution is not primarily coming from interest rates.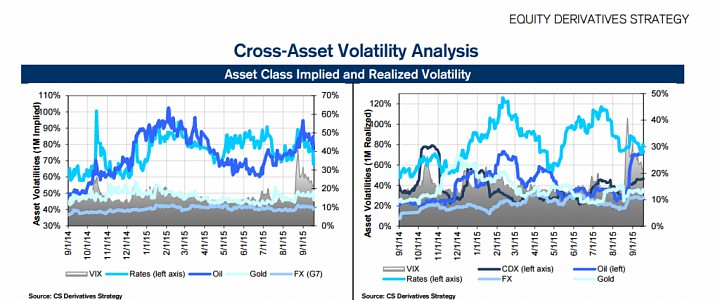 In the wake of the Fed's no decision decision not to raise interest rates in September there will be market impact, observes the weekly market commentary from the bank's Mandy Xu, an analyst on the equity derivatives team run by Edward Tom. As the S&P 500 rose 8.94 points yesterday, and volatility was down even more significantly, ending Monday at 20.14 and down near 11 percent on the day, Credit Suisse notes a volatility divergence in the wake of recent Fed inaction -- and a dramatically changing probability path on rates.
Credit Suisse: The implication of the Fed standing pat on interest rates
Equity volatility diverges from other market volatility is projected to be causation for term structure normalization. In other words, volatility could revert to its stimulus-based fairy tale state where dopamine of quantitative easing continues to dull the senses as...
More