Commodities like gold, oil, iron ore, and copper are the foundation of our modern world. Technology and consumer goods may get most of the attention from stock investors, but none of the products in those sectors would be possible without basic materials. This indisputable fact makes commodity stocks Southern Copper , Freeport-McMoRan Inc , and Anadarko Petroleum top investment candidates.
| Company | Current Yield | Primary Commodities Produced |
| --- | --- | --- |
| Southern Copper (NYSE: SCCO) | 0.87% | Copper, zinc, and silver |
| Freeport-McMoRan Inc (NYSE: FCX) | N/A | Copper, gold, and oil |
| Anadarko Petroleum (NYSE: APC) | 0.43% | Oil, natural gas, natural gas liquids |
Data Source: S&P Global Market Intelligence .
Read on to learn what else makes these particular commodity stocks great for investors seeking exposure to this vital market.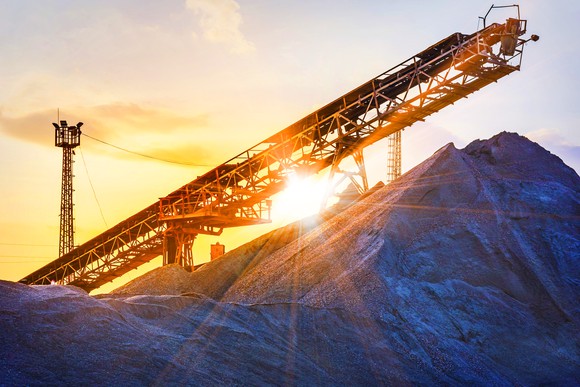 A South American copper behemoth
Southern Copper Corporation is one of the largest integrated copper producers in the world. It produces not only copper but zinc, silver, and molybdenum as well. The company has been in the business a long time, having begun its copper mining operations in 1960. Shares are listed on the New York Stock Exchange, but practically all of the company's mining, smelting, and refining facilities are found south of the border -- in Peru and Mexico. The commodity company continues to conduct exploration activities in those countries, as well as in Argentina, Chile, and Ecuador. Its rich history and continued exploratory initiatives make Southern Copper owner of one of the largest copper reserves in the world today. As icing on the cake, and of critical importance to long-term investors, the company boasts the longest estimated "mine life" in the industry, at 59 years.
Recent results have been good, fueled by a steady rise in the price of copper over the last 12 months. The company reported revenue of $1.583 billion and profits of $314.4 million in the first quarter of 2017, a 27% increase and a 70% increase, respectively, over Q1 2016. Also of note: The company generated $244 million in free cash flow in Q1, which should help support its 0.9% dividend yield. With...
More