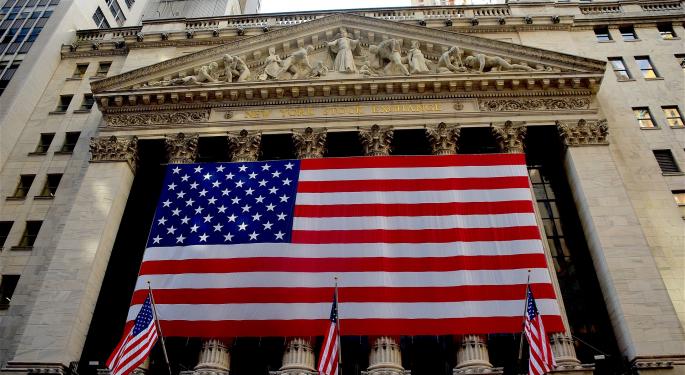 With Election Day now just one day away, the question on every investor's mind is which stocks will be on the move following the election and what direction will they be headed.
The good news for diversified, long-term investors in equity ETFs like the SPDR S&P 500 ETF Trust SPY 1.98% is that historically, stocks perform just fine regardless of who is president.
Since Republican Dwight Eisenhower was elected in 1952, there have been 18 presidential terms of office. During 15 of those 18 terms, the S&P 500 delivered gains, the largest of which was the 84.5 percent gain during President Barack Obama's first term in office.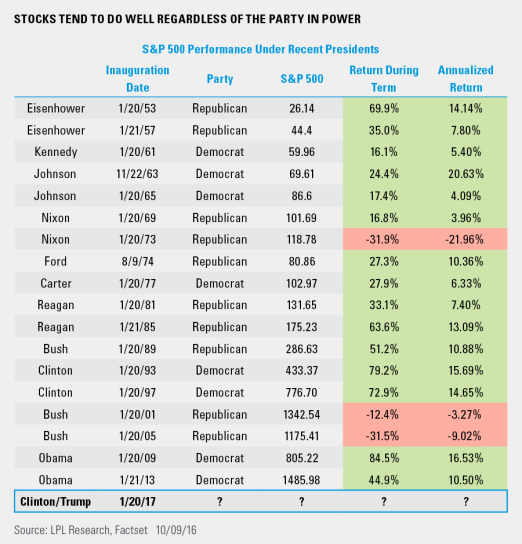 The only three times the S&P 500 has delivered negative gains for an entire presidential term were the infamous second term of President Nixon (-31.9 percent) and both terms of President George W. Bush (-12.4 percent, -31.5 percent).
Democratic presidents are a perfect eight for eight when it comes to the stock market. The S&P 500 has risen during all eight Democratic presidential terms since 1952 for an average gain of 45.9 percent per term.
Republican presidents haven't done quite so well for investors. The S&P 500 has risen during seven out of the 10 Republican terms in office for an average gain of 22.1 percent.
"The saying that Republican Presidents are better than Democrats for investors continues to be one of the bigger misconceptions there is in the investment world," Bespoke analysts said in the firm's 2016 market outlook report.
By looking at the last two terms under a Republican president (George W. Bush) and a Democratic president (Barack Obama), traders can get a bit of an idea of which sectors have performed best under each party.
From 2001 to 2008, under Bush's leadership, the Energy Select Sector SPDR (ETF) XLE 1.71% (+43.6 percent) and the Materials Select Sector SPDR XLB 1.21% (+8.2 percent) were the two best-performing SPDR sector ETFs. The Financial Select Sector SPDR Fund XLF 2.34% (-56.1 percent) and The Industrial Select Sector SPDR Fund XLI 2.07% (-21.5 percent) were the two worst-performing sectors.
Under President Obama, every single sector ETF is up at least 37.3 percent. The two top performers have been the Consumer Discretionary SPDR (ETF) XLY 2.1% (+243.9 percent) and the Technology SPDR (ETF) XLK 2.01% (+193.1 percent). The two worse-performing sector ETFs have been the XLE (+37.3 percent) and the Utilities SPDR (ETF) XLU 0.71% (+61.1 percent).
© 2016 Benzinga.com. Benzinga does not provide investment advice. All rights reserved.
Source