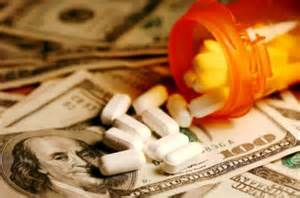 Pharmaceutical companies are making huge acquisitions in recent weeks, which should be a concern for investors. AbbVie (ABBV) announced it will buy cancer biotech Pharmacyclics Inc. (PCYC) in a massive $21 billion deal. This comes just a few months after AbbVie failed to acquire Shire plc (SHPG) in an even bigger $55 billion deal that was nixed by the government.
AbbVie beat out a number of companies in the bidding for Parmacyclics, including Johnson & Johnson (JNJ) and Novartis (NVS). The merger will allow AbbVie to diversify into a new area of therapy and become less vulnerable on Humira, which makes up the bulk of AbbVie's sales.
But AbbVie shares sank 5% after the deal announcement, which calls into question how investors view these mega-deals now. Such huge M&A deals make for exciting news, but they also signal a company that is having trouble growing on its own. Plus, AbbVie investors may be rightfully questioning whether the company paid too high a price. After all, Pharmacyclics sank to below $1 per share during the 2008-2009 recession, but will now fetch $261 per share from AbbVie.