Vringo (NASDAQ:VRNG) announced a new acquisition of an operating company, International Development Group in the wireless charging and rugged mobile spaces on Friday October 16, 2015. The company issued 1.6m shares of convertible B, which convert into 16.5m shares of comment stock to IDG as payment representing 11.4% of the combined company on a fully diluted basis.
IDG is a combination of two entities, fliCharge and Group Mobile. The subsidiaries generated $7m in revenue in 2014. 2015 revenue and detailed financials have not been disclosed as of the date of this article: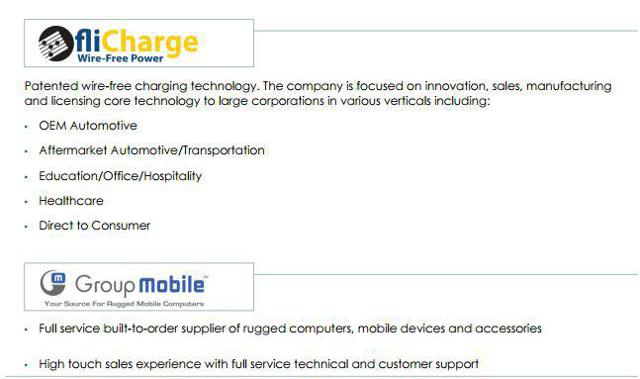 The company has a post acquisition strategy, which should see continued communications out of the company as further developments and progress is made. The operating arm should help de-risk the investment and attract new investors who did not want to solely invest in a pure patent licensing company. A copy of the full slide deck can be found here.
The company continues to gain negotiating leverage through court victories, specifically injunctions in Germany, Romania, Netherlands, and Brazil. The Breach of Contract case continues to progress in the Southern District of New York presided by H. Kaplan. A decision in France is currently pending. In document 178 in the BoC case in SDNY it was discovered that Vringo wanted to license their portfolio on a worldwide basis for $817m. I believe this number includes both infrastructure and terminals. Vringo would probably need to win on all...
More