Gold price fell below 1300 today (4/28). There were a couple of resistance factors at 1306 where gold retreated from.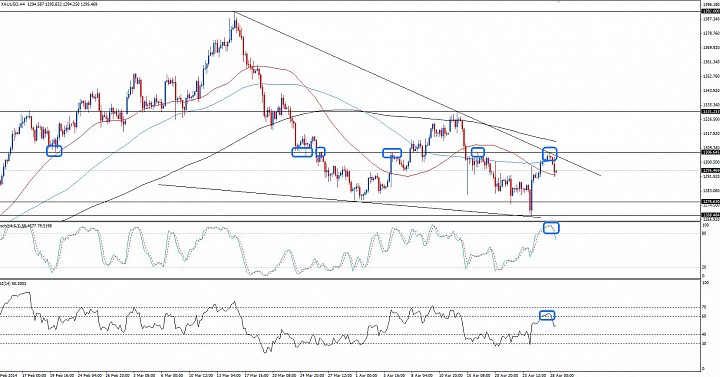 (gold 4h chart, 4/28)
1) A falling trendline that connects the 1392 and 1331 resistance pivots. 
2) Support/resistance pivots.
The RSI topped around 60, which reflects continuing bearish momentum. The stochastic is also turning down from 80. This suggests a bearish attempt in the upcoming session.. 
Gold price will be under heavy event risks this week, including US GDP, FOMC Statement, Manufacturing PMI, and NFP, as well as crisis in Ukraine.
If gold can hold above 1306 after the event risks, gold may be reversing to a bullish mode against a month-long bearish one. In this scenario, 1331 will be the first resistance before the market can open up 1392. 

If the market continues to be bearish, it should break and hold below 1365 after this week. This would open up the lows for 2013 and 2014 in the 1182-1205 area