USD was strong across the board since Janet Yellen started answering questions in front of congressional members yesterday. She is due back today to complete the 2-day event, and the USD continued to strengthen ahead of her QA session.
We saw a dip in EUR/USD, AUD/USD, NZD/USD, and a rally in USD/JPY. However, when we look at the GBP/USD, we see that it is staying resilient. 

GBP/USD 4H Chart (7/16)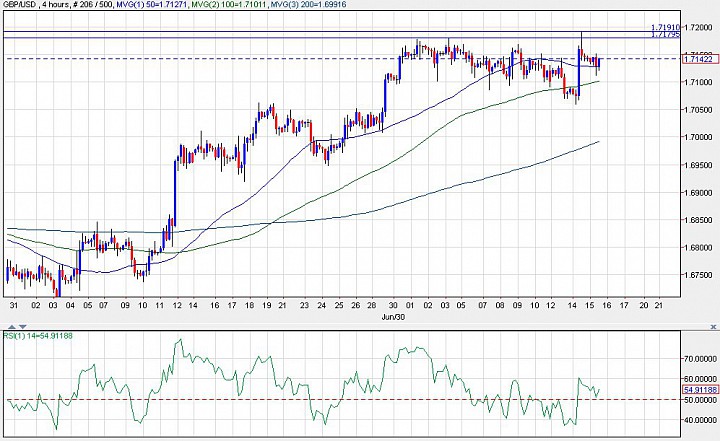 Yesterday's UK inflation data kicked it off (June CPI was 1.9% y/y). Price popped up and cleared the consolidation high, tagging a fresh high on the ear at 1.7191.
However, momentum is still in consolidation as the 4H RSI is stuck between 40 and 60. The strong USD is holding GBP/USD back from its bullish continuation attempt. 
Today as USD firms across the board, the GBP/USD is staying bullish. As long as price holds north of 1.71, and the 4H RSI holds above 40, the bullish breakout yesterday should still be in play. If the 4H RSI pushes above 60, the bullish continuation swing will probably be extending.
The claimant count change in June was -36.3K, which means there was about 36,300 fewer jobless claims in June. The reading was better than the forecast of -27.1K. May's reading was also revised to -32.8K from -27.4K. 
Meanwhile, the unemployment rate edged lower to 6.5% from a 6.6% reading in May. This was in-line with forecasts and reflects a persistent improvement in the labor market since the second half of 2013.


(source: forexfactory)