Oasis Petroleum rallied on the back of the recent upward movement in WTI.
If Oasis continues on its path of fiscal discipline, it could generate FCF next year.
A possible midstream move would raise much needed capital, while reducing Oasis's required capital intensity, a big win-win.
Any move resulting in debt reduction would bring down Oasis's hefty interest expenses, freeing up much needed additional cash flow.
Baker Hughes (NYSE:BHI) reported last Friday that America's oil rig count had fallen for the sixth time in a room, as upstream players are forced to idle more rooms as cash flow generation remains lackluster. Last year's lofty rig count numbers were propped up by easy credit, soaring stock prices, and realized prices twice 2015's levels. With those benefits gone, America's oil rig count slipped by over 1,000 year-over-year.
Following up to that, the EIA is calling for America's average crude production to fall from 9.2 million bo/d this year to 8.9 million bo/d in 2016. Lower U.S. supply combined with slightly higher levels of demand [150,000 bo/d forecasted increase] will partially alleviate the current surplus, wreaking havoc on the industry.
Growing optimism about a decent price recovery next year helped push West Texas Intermediate (WTI), America's oil pricing benchmark, higher. As sentiment towards the industry shifted once again, Oasis Petroleum Inc (NYSE:OAS) rallied from $8/share to $12/share within just two weeks. In a $50 WTI environment, Oasis Petroleum has the capacity to do more than just survive as long as management keeps its eye on the ball (meaning the ball-and-chain around Oasis' foot, that is its debt load).
FCF up to fiscal discipline
During the first half of 2015, Oasis Petroleum generated $230 million in cash flow and received $213 million from its hedging program, which helped justify (at least partially) its $442 million in capital expenditures over that time period. Aware that its hedging program falls off in 2016, Oasis Petroleum has slimmed down its operations to just three rigs in the core of the Bakken/Three-Forks play versus the 16 it was operating last year.
That will cut down its 2H 2015 capex to $328 million. Over that time period, Oasis Petroleum will receive an additional $149 million from its hedging program, if WTI stays around $50/barrel. Considering WTI traded well below that level for some time, its derivative program could raise more than that.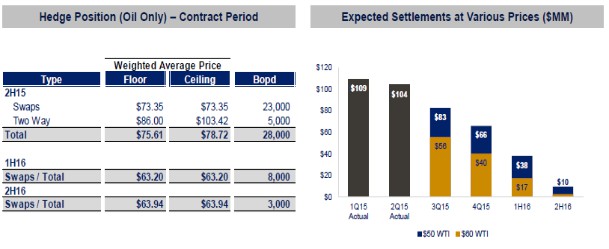 Source: Oasis Petroleum Presentation
Combined with its cash flow generation, Oasis Petroleum should at least come close to covering its capex and hefty interest expenses (~$38 million a quarter) during 2H 2015. One of Oasis' biggest downsides is its debt load, which stood at $2.355 billion at the end of Q2 2015. While its debt doesn't start maturing until 2019, interest payments will continue to siphon...
More