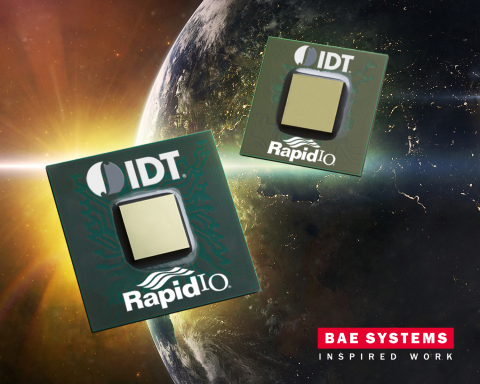 SAN JOSE, Calif.--(BUSINESS WIRE)--BAE Systems and Integrated Device Technology, Inc.® (IDT®) (NASDAQ:IDTI) today announced a new technology for space applications that will transfer greater volumes of data at higher speeds than ever before possible during space missions. BAE Systems' new space-grade microchip, known as the RADNET1848-PS space-grade RapidIO switch, will use the market's first RapidIO interconnect to speed massive amounts of data through a network of radiation-hardened computer systems in outer space.
"As the capabilities and benefits of RapidIO are increasingly recognized, its role in high-volume Earth-based applications—such as wireless communications and Big Data analytics—will only continue to grow."

Tweet this
"With more complex sensors being introduced into space missions, BAE Systems recognized the need to develop microchips that can handle the related increase in larger-volume data transfer, and with IDT's technology, we have accomplished that goal," said Ian McDonald, director of Space Products and Processing at BAE Systems. "These types of advances will provide the mission critical, high performance networking connectivity necessary for the next generations of high performance space systems for military, commercial, and civil applications – and possibly even high energy physics systems."
BAE Systems selected IDT's 240 Gbps CPS-1848 RapidIO switch as the foundation for its RADNET1848-PS product. IDT's...
More