Small cap stocks which ignited in September have been under pressure since then. However, small caps represents a very attractive investment segment and offer a very compelling reason for a long-term portfolio allocation - outperformance. Small caps simply outperform other stock market segments and asset classes over the long-term.
The Enduring Power of Small Caps
Small-cap stocks are generally defined as companies with a market capitalization of between $250 million to $2 billion.
However, the definition is not firm. For instance, the Russell 2000 index, the most popular small cap benchmark used by asset management institutions, does not use a market cap cutoff. Instead, the Russell 2000 index comprises the smallest 2000 companies in the Russell 3000 index, which in turn, comprises the largest 3000 US publicly-held companies representing 98% of the US stock market capitalization. Consequently, the average market cap and the market cap range of the small cap Russell 2000 index changes based on the market performance during a year. Every June the index is reconstituted. As of the end of September quarter, the average market cap of Russell 2000 was $2.2 billion and the median (midpoint) was $850 million. Another popular small cap index, the S&P SmallCap 600, is also a capitalization weighted index with a small cap market cap range of $450 million to US$ 2.1 billion.
The Graycell Small Cap Portfolio uses a market cap range of $200 million to $3 billion in its model portfolio.
There has been a large body research over the years providing empirical evidence for the outperformance of small caps on both an absolute and risk-adjusted basis over time.
The work of Nobel laureate Eugene Fama and many others have quite decisively concluded the outperformance of small cap companies compared to larger caps. The outperformance to an extent depends on time frames, whereby in some periods small caps may outperform while underperforming in others. However, when measured over an extended period of time, the small cap outperformance is abundantly clear and consistent.
Disclosure: I/we have no positions in any stocks mentioned, and no plans to initiate any positions within the next 72 hours.
This superior performance of small caps is quite vividly captured in the chart below which demonstrates the growth of $1 in various financial instruments from 1926 to 2016.

If investors are willing to bear the additional volatility which is typical of relatively higher-risk small cap stocks and periodic underperformance in the short-term, then over the long-term they are well compensated for the additional risk, compared to other financial market investments.
A prudent small cap portfolio approach must be considered to somewhat diminish the unique risks while further improving the already relatively higher small cap index returns.
Small Caps Have The Wind - Economy and Tax Cuts
The small Russell 2000 Index (IWM) is up 12% as of the beginning of November. However, it has lagged the broader market as shown in the chart below. The Gryacell Small Cap quantitative portfolio is up 44% over the same period.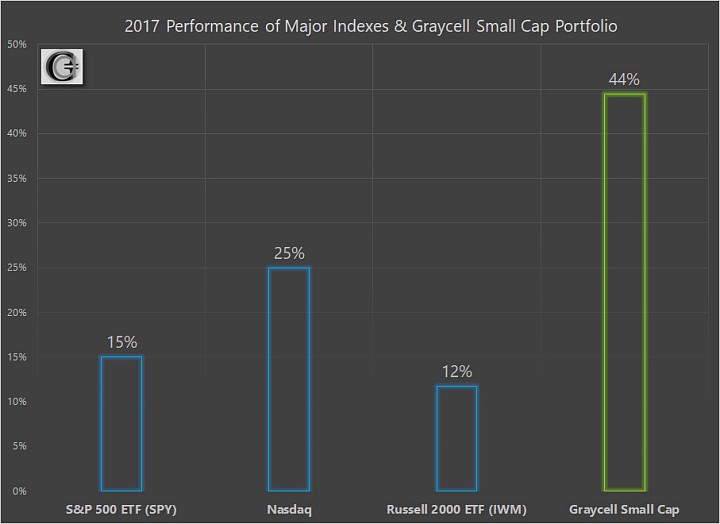 The lagging performance of small caps compared to larger caps, like S&P 500 (SPY) and Nasdaq (QQQ), this year can be partly explained by the weakening dollar. The US dollar has declined against major currencies and slipped over 10% this year against the Euro, which helps the larger caps which have stronger international presence and exports.
However, the upcoming tax cut proposals should benefit small caps. Any corporate tax cut, in general, is good for small caps as most if not the entire income for small caps is generated in the US. Consequently, smaller companies are more likely to pay a relatively higher effective tax rate as opposed to a larger cap company, which has international income that is not repatriated and thus avoids taxation.
In addition, a proposed tax holiday or a reduced tax rate on repatriated income can indirectly benefit small caps as they become acquisition targets for larger companies flushed with repatriated cash on their balance sheets
Disclosure: I/we have no positions in any stocks mentioned, and no plans to initiate any positions within the next 72 hours.
Conclusion
Tax proposals are just proposals and the final bill will be quite different. As we enter a period of deliberations in the House and Senate, the process will add volatility to the small caps as proposals may be viewed as being helpful or not to the segment. It is very hard to predict the final outcome of the tax bill and investors should be prepared for near-term volatility. However, looking beyond the immediate future, the small caps should continue to benefit from a robust US economy.
The principal reason to consider a consistent portfolio exposure to small caps is their enduring power to relatively outperform other stock market segments over time. The additional return can make a very substantial impact over the long term, as conveyed by the $1 growth chart above.
As is true for investing in general, a disciplined investment strategy is all the more essential to positioning a small cap portfolio for success and outperformance. Be prepared for volatility as it is inherent in the stock market and even more so in small cap performance. Once an investor has taken care of managing the downside, as much as is practically possible, it allows a well-positioned portfolio to take care of the upside over time. The return performance over many years in the model Graycell Small Cap Portfolio has been based on that philosophy.
This year there are many promising small caps, and some of these include Dynavax Technologies (DVAX), Kronos Worldwide (KRO), Kemet (KEM), Weight Watchers (WTW), Chegg (CHGG), Arena Pharmaceuticals (ARNA), Mirati Therapeutics Inc (MRTX), Sangamo Biosciences (SGMO), Abeona Therapeutics (ABEO), Westport Innovations (WPRT), Insmed (INSM), Overstock (OSTK), and GDS Holdings (GDS). And in this market, the list can go on and on.
More can be read on our Market and Small Cap blog.
Disclosure: I/we have no positions in any stocks mentioned, and no plans to initiate any positions within the next 72 hours.
More