ImmunoGen, Inc. IMGN reported a loss of 10 cents per share in the second quarter of 2017, narrower than both the Zacks Consensus Estimate of 14 cents and the year-ago loss of 53 cents. We note that effective from Jan 1, 2017, ImmunoGen has transitioned to a fiscal year ending Dec 31.
ImmunoGen's shares have rallied 14.3% on Jul 31, 2017 as the company raised its revenue and cash guidance for the full year. The company's stock has significantly outperformed the industry year to date. The company's shares soared 255.4% compared with the industry's increase of 4.4%.

Since ImmunoGen does not have any approved product in its portfolio yet, the company earns revenues through royalties, license and milestone payments, as well as research and development (R&D) support fees paid by its partners.
Revenues jumped significantly by 427% year over year to $39 million and beat the Zacks Consensus Estimate of $34 million in the reported quarter. This increase in revenues was mainly driven by substantially higher license and milestone fees of $31.1 million compared with the $0.08 million a year ago. This included $30 million paid-up license fee related to a licensing agreement with Sanofi SNY and $1 millionphase I milestone payment from the collaboration agreement with CytomX Therapeutics. ImmunoGen's agreement with CytomX allows each company to develop candidates to a specified number of cancer targets using CytomX's Probody antibody-masking technology.
Research & development (R&D) expenses decreased 8.6% from the year-ago level to $35.3 million. This decline was primarily due to workforce reduction, decreased clinical trial costs because of phase I mirvetuximab soravtansine and IMGN529 studies winding down. Selling, general and administrative (SG&A) expenses declined 5.4% to $8.8 million due to decreased personnel expenses in the second quarter of 2017.
ImmunoGen's cash and cash equivalents at the end of Jun 2017 were $150.3 million compared with $126.6 million as of Dec 2016. The company expects to use its current cash and expected cash to fund operations in the second quarter of 2018.
Pipeline Update
ImmunoGen is progressing well with its product pipeline mirvetuximab soravtansine. In May 2017, the company presented data from a pooled analysis of three phase I expansion cohorts evaluating mirvetuximab soravtansine for treatment of platinum-resistant ovarian cancer, at the annual meeting of American Society of Clinical Oncology (ASCO).
Combination regimens with mirvetuximab soravtansine in ovarian cancer are being evaluated in the phase Ib/II FORWARD II study. A phase II expansion cohort in combination with Roche's RHHBY Avastin is also ongoing. ImmunoGen presented initial data from the FORWARD II study in May 2017 at ASCO. Data from the study demonstrated that the candidate has the potential to complement the currently available therapies for the indication.
Furthermore, a phase I trial on IMGN779 for treating the acute myeloid leukemia (AML) is currently underway. In Jun 2017, Immunogen presented data from the study at the European Hematology Association (EHA) in Madrid, Spain. Data from the study demonstrates the safety and tolerability of IMGN779 across seven dose levels, with no dose limiting toxicities (DLTs). The research also showed an evidence of dose-dependent biological and anti-leukemia activity.
The company also plans to file an investigational new drug (IND) application for another pipeline candidate, IMGN632, for treatment of multiple hematologic malignancies in the third quarter of 2017.
2017 Outlook
The company significantly increased its revenue and cash guidance for 2017. Revenues are now expected in the range of $115-$120 million compared with $70–$75 million projected previously. On the other hand, cash and cash equivalents are expected between $90-$95 million as of Dec 31, 2017, much higher than the earlier estimates of $35-$40 million. The increase in cash and revenue guidance was mainly due to an upfront payment of $25 million which the company received from Debiopharm for divesting its clinical-stage anti-CD37 ADC, IMGN529/DEBIO 1562 in this quarter. The company will likely recognize it as revenue later this year. The collaboration agreement with Sanofi also contributed to the company's increased expectation for the cash position.
The company continues to project operating expenses in the range of $175–$180 million for 2017.
ImmunoGen, Inc. Price, Consensus and EPS Surprise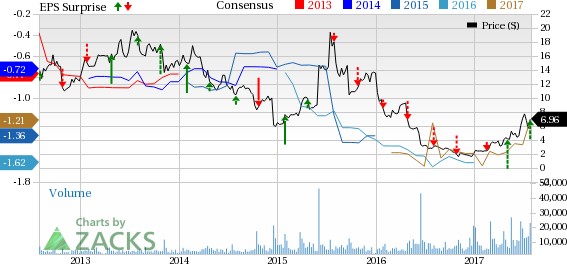 ImmunoGen, Inc. Price, Consensus and EPS Surprise | ImmunoGen, Inc. Quote
Zacks Rank & Key Picks
ImmunoGen currently carries a Zacks Rank #2 (Buy). Another top-ranked stock in the healthcare sector is Exelixis, Inc. EXEL, sporting a Zacks Rank #1 (Strong Buy). You can see the complete list of today's Zacks #1 Rank stocks here.
Exelixis's earnings per share estimates inched up from 53 cents to 55 cents for 2018, over the last 30 days. The company has delivered positive earnings surprises in all the trailing four quarters with an average beat of 512.11%. Exelixis's shares have soared 85.6% so far this year.
More Stock News: 8 Companies Verge on Apple-Like Run
Did you miss Apple's 9X stock explosion after they launched their iPhone in 2007? Now 2017 looks to be a pivotal year to get in on another emerging technology expected to rock the market. Demand could soar from almost nothing to $42 billion by 2025. Reports suggest it could save 10 million lives per decade which could in turn save $200 billion in U.S. healthcare costs.
A bonus Zacks Special Report names this breakthrough and the 8 best stocks to exploit it. Like Apple in 2007, these companies are already strong and coiling for potential mega-gains. Click to see them right now >>
Want the latest recommendations from Zacks Investment Research? Today, you can download 7 Best Stocks for the Next 30 Days.
Click to get this free report
Roche Holding AG (RHHBY): Free Stock Analysis Report
Sanofi (SNY): Free Stock Analysis Report
Exelixis, Inc. (EXEL): Free Stock Analysis Report
ImmunoGen, Inc. (IMGN): Free Stock Analysis Report
To read this article on Zacks.com click here.
Zacks Investment Research