No compatible source was found for this media.
OPEC confounded its doubters and sent crude oil prices soaring by agreeing to its first production cuts in eight years.
The deal, designed to drain record global oil inventories, overcame disagreements between the group's three largest producers -- Saudi Arabia, Iran and Iraq -- and ended a flirtation with free markets that started in 2014. It was also broader than many had expected, extending beyond OPEC. Most strikingly, Russia agreed to unprecedented cuts to its own output.
The impact on the energy world was immediate: benchmark oil prices gained as much as 10 percent in New York and the share prices of energy companies around the globe jumped alongside the currencies of large exporters. Whether that's sustained will depend on how strictly members of the Organization of Petroleum Exporting Countries stick to the agreement, something they haven't always done in the past.
"This should be a wake-up call for skeptics who have argued the death of OPEC," said Amrita Sen, chief oil analyst at Energy Aspects Ltd. "The group wants to push inventories down."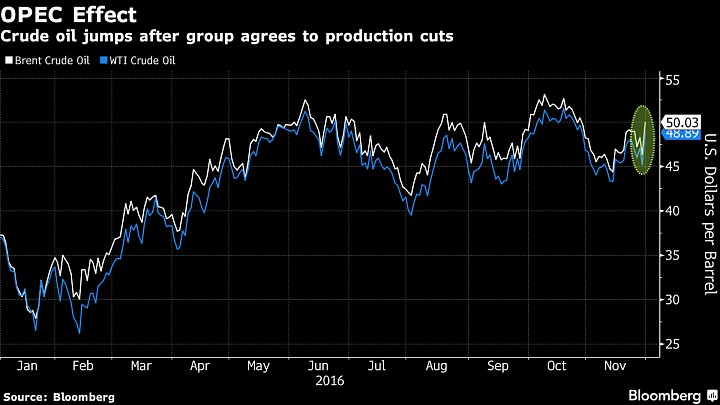 OPEC will reduce output by about 1.2 million barrels a day by January, the group said, fulfilling a plan sketched out in Algiers in September to cut its production to 32.5 million barrels. The agreement exempted Nigeria and Libya, but gave Iraq its first quotas since the 1990s. West Texas Intermediate crude futures rose 0.3 percent to...
More