Summary
Chesapeake Energy Corporation's share price takes off again as its 2017 debt wall suddenly becomes very manageable.
Be very cautious, as even though its financial position has improved by leaps and bounds, its pro forma current/2017 liabilities still outpaces pro forma current assets by ~$1.9 billion.
News of a big divestiture, possibly out of the Haynesville or the Powder River Basin, or a secondary offering would be bullish.
For those that have been following me (thank you by the way), you know I've been riding the Chesapeake Energy Corporation (NYSE:CHK) train for better (or worse) since mid-2015. After losing plenty of money when Chesapeake Energy went from $12 to $3 a share, I doubled down and was able to exit with a small gain when the firm moved back up above $6/share earlier this year. I bought back in around $5.70, rode that down to $4 (yay...), and was relieved when Chesapeake Energy marched up to $6.50, where I once again exited my position.
As one could imagine, I was kicking myself over that decision when Chesapeake Energy shot up to $8 a share but I had had my fill of volatility for the moment. I didn't sell out because I thought Chesapeake Energy Corporation was going under or that its assets didn't offer a lot of value, but that the risk-reward ratio was no longer asymmetrically in investors favor in the same way it once was.
After its latest update I can see why the market is placing a lot more faith in the company, and arguably for good reason, but the rollercoaster ride I had been on was enough for now. That being said, there is still plenty to like about the turnaround story that is Chesapeake Energy Corporation and at a lower price I would definitely consider buying back in.
For investors wondering why Chesapeake Energy has done so well over the past few weeks, look no farther that the substantial reduction in its 2017 debt wall. Back at the end of Q3 2015, before Chesapeake Energy had pledged the majority of its assets to protect its $4 billion revolving credit line due 2019, the firm had $2.21 billion in maturities or callable debt in 2017. For an embattled player that was eating up a ton of cash each quarter and had a poor liquidity outlook, it looked like the end might be near.
Fast forward to today and Chesapeake Energy was able to preserve its $4 billion credit line in its entirety and cut down its 2017 headache to $660 million. That was made possible through asset sales (boosting its equity price and raising cash in order to make other reduction efforts possible), open market purchases at steep discounts to par, equity for debt exchanges, a debt exchange that wasn't that successful for its intended purpose (of bringing down 2017 and 2018 maturities), and most recently (and arguably importantly) using a $1.5 billion term loan due in five years to refinance that burden for a later date.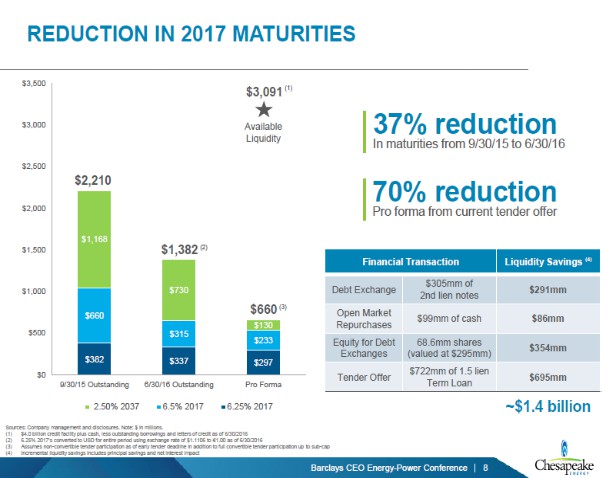 Source: Chesapeake Energy Corporation September 2016 Presentation
As the likelihood of a bankruptcy and/or liquidity crunch evaporated the market rewarded the firm with a higher share price. It has been referenced by SA commentators and analysts in the past, and I could also see Chesapeake Energy pursuing a secondary offering to raise liquidity if its stock price climbs a little higher. Based on the...
More