Facebook Inc FB is keen on ramping up video content on its platform.
The company in a blog post announced that it has launched an app for creators to "manage their presence" Facebook. The app is now available on iOS and will be rolled out to Android users in the coming days.
Facebook said that Creators App will include a Live Creative Kit (to help go live with a lot of features for personalized broadcasts), Community Tab (to help connect with the Community on Facebook), Camera & stories (to help add camera effects and post on other platforms) and Insights (to help access metrics like Page views, videos and fans).
Facebook, Inc. Revenue (TTM)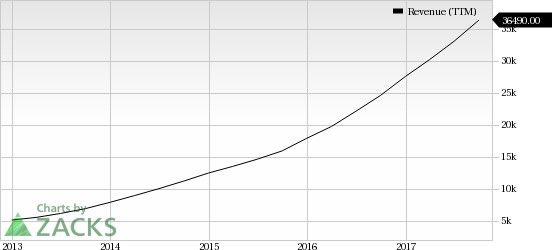 Facebook, Inc. Revenue (TTM) | Facebook, Inc. Quote
Facebook has also launched a website for creators, which will assist creators to "find resources and tips on how to create great videos, connect with fans, and grow on Facebook."
With this app, Facebook is looking to give some tough competition to Alphabet's GOOGL YouTube.
Why the Push into Video?
Many tech giants including Facebook are eyeing the lucrative market of original programming. As the number of cord cutters increase, streaming services are become the next big business opportunity.
By bringing more video content, Facebook is trying to bring in more ad dollars, which remain the mainstay of the company's revenues with over 95% contribution.
In August this year, Facebook had unveiled a new tab called "Watch" that will be exclusively dedicated to video viewing. In May, Facebook reportedly brought on board several content creators like ATTN, Vox Media, BuzzFeed and Group Nine Media(which target mostly millennials) to produce shows for its upcoming video service.
Besides Facebook, a host of other social media sites like Twitter TWTR and Snap Inc are trying to incorporate more and more video oriented content to bring in more ad dollars. Even Apple Inc AAPL is trying to increase its footprint in this market.
A couple of days back, per a CNBC report, research firm CCS Insight released its 12th annual set of industry predictions, which mentions the possible launch of a streaming service by Apple next year.
Despite being lucrative, this field is highly competitive. It is a well-known fact that YouTube is synonymous to video viewing. Also, Netflix and Amazon are the other top competitors in this arena with their award winning series. Reportedly, Netflix and Amazon will be spending $6 billion and $4.5 billion on content this year, respectively.
Zacks Rank and Share Price Movement
At present, Facebook carries a Zacks Rank #3 (Hold). You can see the complete list of today's Zacks #1 Rank (Strong Buy) stocks here.

The company has outperformed the industry in the last one year. Facebook's shares have increased 53.5% compared with the industry's gain of 24.9%.
Looking for Stocks with Skyrocketing Upside?
Zacks has just released a Special Report on the booming investment opportunities of legal marijuana.
Ignited by new referendums and legislation, this industry is expected to blast from an already robust $6.7 billion to $20.2 billion in 2021. Early investors stand to make a killing, but you have to be ready to act and know just where to look.
Want the latest recommendations from Zacks Investment Research? Today, you can download 7 Best Stocks for the Next 30 Days.
Click to get this free report
Facebook, Inc. (FB): Free Stock Analysis Report
Alphabet Inc. (GOOGL): Free Stock Analysis Report
Twitter, Inc. (TWTR): Free Stock Analysis Report
Apple Inc. (AAPL): Free Stock Analysis Report
To read this article on Zacks.com click here.
Zacks Investment Research