Paychex 's shares will reach $56 by 12.19.2015

19 november 2015
Paychex (PAYX)is a US provider of payroll, HR, and benefits outsourcing solutions. The company continues to demonstrate double-digit growth. According to the report for Q1 FY16 quarterly revenue rose 8.4% y-o-y to USD 723 mn. Sales in HR services (+15% y-o-y) became a revenue growth driver. Operating profit increased 10.7% y-o-y to USD 296 mn, while operating margin climbed 0.9 pp y-o-y. EPS climbed 23.4% y-o-y to 58 cents, outpacing forecasts by 13.7%.
The company generates a significant cash flow totaling USD 278 mn in Q1 (+6% y-o-y), thus allowing it to buy back shares and pay out generous dividends. The company spent USD 62.9 mn (+68% y-o-y) for buyback and USD 152 mn (10% y-o-y) for dividends in the reporting quarter. Dividend amounted to 42 cents (+10.5% y-o-y), yielding 3.2%.
The company's management is optimistic about the company's performance going forward. According to FY16 guidance, revenue will increase 7-8%, while adjusted EPS will rise 8-9%.
I am upbeat about the company and believe that Paychex will continue to improve its financials in the mid-term due to recovery of the US economy and growing demand for consulting services. All of this, coupled with higher dividends and a buyback program, will boost the company's share price performance in the mid-term.
I raised my mid-term fundamental valuation for Paychex (PAYX) shares to USD 57, and reiterate a Buy recommendation in the mid-term. The short-term technical target is USD 56.
<!== INSTRUMENT %% %1440% ==!>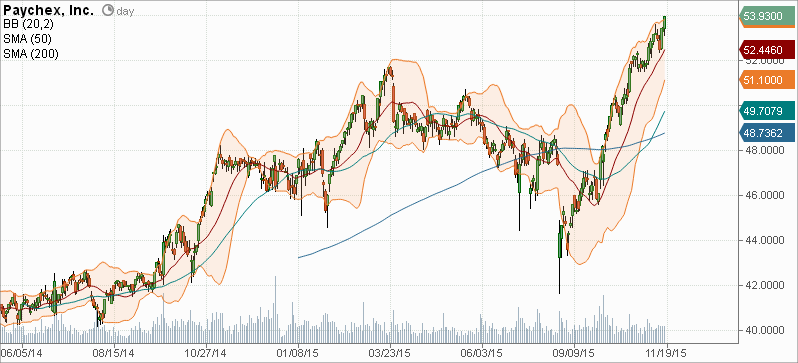 Voting is over
Waiting for


the right answer