Intercept Pharmaceuticals, Inc. ICPT is scheduled to report second-quarter 2017 results on Jul 31.
In the last reported quarter, the company beat expectations by 15.4%. Let's see how things are shaping up for this announcement.

Intercept's share price movement in the year so far reveals that the stock outperformed the industry. The company's shares have rallied 18.3% during this period compared with the industry's 12.8% gain.
Surprise History
Intercept's track record has been decent so far, with the company surpassing expectations in three of the last four quarters. The company has posted an average positive earnings surprise of 0.06% over this period.
Why a Likely Positive Surprise?
Our proven model shows that Intercept is likely to beat estimates this quarter because it has the right combination of two key ingredients, a positive http://www.zacks.com/earnings/earnings-surprise-predictions/">Earnings ESP and a Zacks Rank #1 (Strong Buy), 2 (Buy) or 3 (Hold).
Zacks ESP: The Earnings ESP, which represents the difference between the Most Accurate estimate and the Zacks Consensus Estimate, is at +9.39%. This is because the Most Accurate estimate is pegged at a loss of $3.28 while the Zacks Consensus Estimate is pegged at a loss of $3.62. You can uncover the best stocks to buy or sell before they're reported with our Earnings ESP Filter.
Zacks Rank: Intercept currently carries a Zacks Rank #3. The combination of Zacks Rank #3 and a positive ESP makes us confident of an earnings beat in the upcoming release.
Conversely, Sell-rated stocks (#4 or 5) should never be considered going into an earnings announcement, especially when the company is seeing negative estimate revisions.
Factors at Play
Intercept received a major boost with the FDA's approval (in May 2016) of its lead drug, Ocaliva, in combination with ursodeoxycholic (UDCA), for the treatment of primary biliary cholangitis (PBC) in adults with an inadequate response to UDCA or as monotherapy in adults unable to bear with UDCA. In Dec 2016, the European Commission also granted conditional approval to Ocaliva for the same indication.
Ocaliva generated sales of $20.6 million in the last quarter.The initial uptake of Ocaliva has been encouraging and sales of the drug is expected topick up further in 2017.
Meanwhile, Ocaliva is being evaluated for other indications including non-alcoholic steatohepatitis (NASH) and primary sclerosing cholangitis (PSC).
Intercept expects operating expenses in the range of $380–$420 million in 2017 to support the continued commercialization of Ocaliva in PBC in the United States and other markets, sustained clinical development for OCA in PBC and NASH and the continued advancement of INT-767 and other pipeline programs.
The company initiated a phase III study (REGENERATE) on Ocaliva for the treatment of non-cirrhotic NASH in patients with advanced liver fibrosis. The FDA approved a redesign of the REGENERATE trial for the safety and efficacy in treating NASH patients with liver fibrosis. The company now needs to achieve only one co-primary endpoint – either fibrosis improvement or NASH resolution as compared to the earlier target of achieving both. The sample size of the trial has also been reduced to approximately 750 patients or about 250 patients per arm. The company plans to complete enrolment for the interim analysis cohort in the REGENERATE trial soon (data readout in 2019).
Intercept also initiated a phase II study, CONTROL (Combination OCA aNdsTatins for monitoRing Of Lipids), on OCA. Enrolment in the study was completed in third-quarter 2016, with top-line data expected shortly. The company also plans to initiate a phase III trial on Ocaliva in NASH patients with cirrhosis in the second half of 2017. The company also expects top-line results from the phase II trial, AESOP, in primary sclerosing cholangitis (PSC). We expect investors to remain focused on sales ramp-up of Ocaliva and pipeline updates on the call.
Intercept Pharmaceuticals, Inc. Price and EPS Surprise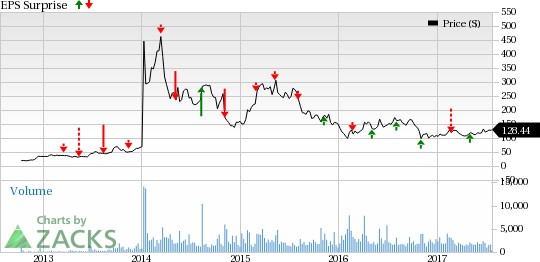 Intercept Pharmaceuticals, Inc. Price and EPS Surprise | Intercept Pharmaceuticals, Inc. Quote
Stocks That Warrant a Look
Here are some other health care stocks that you may want to consider, as our model shows that they too have the right combination of elements to post an earnings beat this quarter.
Vertex Pharmaceuticals Incorporated VRTX scheduled to release results on Jul 26, has an Earnings ESP of +33.3% and a Zacks Rank #1. You can see the complete list of today's Zacks #1 Rank stocks here.
Gilead Sciences, Inc. GILD has an Earnings ESP of +3.32% and a Zacks Rank #3. The company is scheduled to release results on Jul 26.
Alexion Pharmaceuticals, Inc. ALXN has an Earnings ESP of +6.48% and a Zacks Rank #3. The company is scheduled to release results on Jul 27.
More Stock News: Tech Opportunity Worth $386 Billion in 2017
From driverless cars to artifical intelligence, we've seen an unsurpassed growth of high-tech products in recent months. Yesterday's science-fiction is becoming today's reality. Despite all the innovation, there is a single component no tech company can survive without. Demand for this critical device will reach $387 billion this year alone, and it's likely to grow even faster in the future.
Zacks has released a brand-new Special Report to help you take advantage of this exciting investment opportunity. Most importantly, it reveals 4 stocks with massive profit potential. See these stocks now>>..
Want the latest recommendations from Zacks Investment Research? Today, you can download 7 Best Stocks for the Next 30 Days.
Click to get this free report
Alexion Pharmaceuticals, Inc. (ALXN): Free Stock Analysis Report
Vertex Pharmaceuticals Incorporated (VRTX): Free Stock Analysis Report
Gilead Sciences, Inc. (GILD): Free Stock Analysis Report
Intercept Pharmaceuticals, Inc. (ICPT): Free Stock Analysis Report
To read this article on Zacks.com click here.
Zacks Investment Research