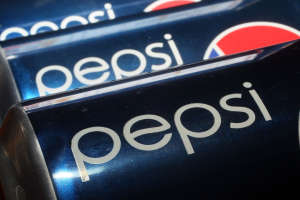 There's reason to believe Coca-Cola (KO) may no longer be the unquestioned king of soda. For years, Coca-Cola held the number one and two top-selling soda brands, Coke and Diet Coke. However, industry trade publication Beverage Digest recently reported that Pepsi (PEP) overtook Diet Coke last year for second place. This is yet another example of PepsiCo's outperformance of its close rival Coca-Cola. The two businesses have performed much differently over the past few years.
PepsiCo has diversified into the food business in a major way. It holds the Quaker and Frito-Lay brands, and its snacks business is growing much faster than its beverage business. On the other hand, Coca-Cola has stood still as a soda-only company. The results speak for themselves. Coca-Cola's revenue excluding currency was flat in 2014, year over year. PepsiCo's organic revenue grew 4% last year.
Overall, soda sales fell for the 10th straight year. This underscores the importance of a diversified portfolio, which gives PepsiCo a key advantage over Coca-Cola.