Goldman Sachs has a very bearish outlook for NZD/USD. Here's what Forexlive says:
Goldman Sachs expect 3 rate cuts of 25bp apiece in Aug, Nov and Mar. Their reasoning;
"In a scheduled "Economic Update" published on Thursday, the RBNZ signalled a significant strengthening in its easing bias, and dovish shift across its views on domestic inflation and domestic/global growth. At the heart of many of these changes is renewed concern about the elevated NZD. In our view, these changes make clear that the RBNZ is positioning for a deeper easing cycle, notwithstanding ongoing risks to financial stability from rising house prices."
Totting it all up into dollars and cents, they see NZDUSD at the following levels;
0.68 3 months
0.64 6m
0.62 12m
(Full article on Forexlive.com)

Before getting ahead of ourselves with the bearish targets, let's take a look at the 4H chart.
NZD/USD 4H Chart 7/22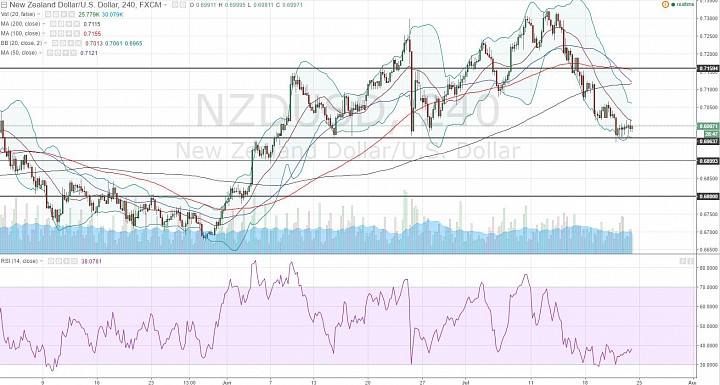 (click to enlarge)

Sharp reversal:
The 4H chart shows a NZD/USD that has been bullish but hit resistance at 0.7325. 
After that, it retreated sharply and is now hovering above 0.6950. 
A break below 0.6950 should open up the 0.68 area, which is the above-mentioned 3-month target for Goldman. 

Trading at critical support:
Now, before we look for this dip, I think we should first anticipate some consolidation, or bullish correction.
The 4H RSI is showing a bullish divergence. 
With price at a critical support and the RSI showing oversold condition, we can see some buying. 
However, the bullish outlook should be limited to the 0.71 area.
A break above 0.7150 on the other hand could invalidate the bearish outlook and revive a bullish outlook at least towards 0.7250 then the 0.7325 high.