Oil futures: Drop incoming, any minute now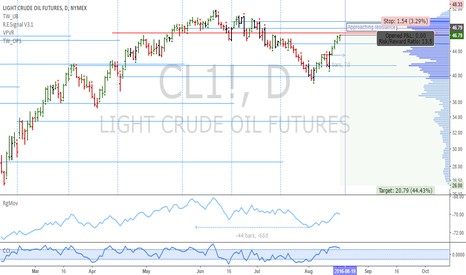 I'm monitoring the oil futures to take a daily short position, to complement my monthly short (see related ideas).
Today I shorted oil, using a stop loss at June's monthly close. You can enter here right away, and add once the daily signal triggers. I'll update the publication once that happens.
There's a time at mode uptrend on chart, and time expires on the 19th. The target has been exceeded and we're approaching a low volume resistance level, plus RgMov indicates this is a downtrend, and that we can short once we spot weakness in oil's price action, specially now, since CCI has hit overbought levels.

- Go short oil futures , CFDs, ETFs (like OIL), at market, and use a stop loss at June's monthly closing price.

Risk 0.5-1%. Not more. We will add once the daily signal triggers.

Check out my updated track record here: http://pastebin.com/6CyyqnPT

If interested in my real time whatsapp alerts and swing trading newsletter, or in personal tuition, contact me privately. I'm offering a considerable discount on a packaged course which includes access to my private trading signals list for a year.

Cheers!

Ivan Labrie

Link to Tim West's chatroom: https://www.tradingview.com/chat/#c8BzrhGRvXxGXWnJ
We discuss setups like this often there. Feel free to stop by and subscribe to his indicator pack. If you have any questions ask.

Risk disclaimer: My analysis is provided as general market commentary and does not constitute investment advice. I will not accept liability for any loss or damage including, without limitation, to any loss of profit which may arise directly or indirectly from use of or reliance0.00%% on such information.