<!== INSTRUMENT %% %240% ==!>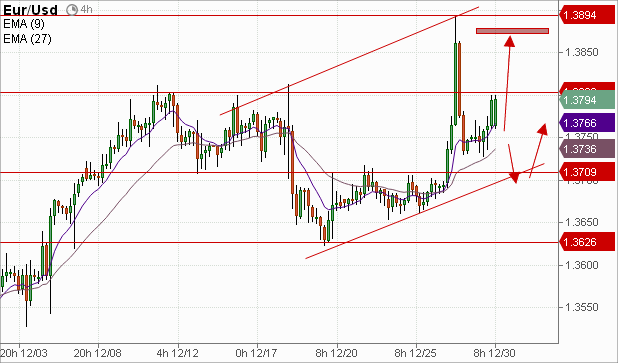 The EUR/USD has started the new week by bouncing up off of support at 1.3735. By doing so, the pair builds on previous bottoming action centered around 1.3625 and 1.3710.
1. Push Higher - My first scenario is a push higher for the EUR - a retest of Friday's highs near 1.3890. The thin liquidity around New Years could be a chance for some volatility.

2. Consolidation - An alternative scenario is that the EUR needs to consolidate first before another upswing. In that case the USD could find strength and retest the (a) 1.3710 horizontal pivot and the (b) upward sloping support trendline.
Therefore, a move back to the 1.3700-1.3710 support zone could act act as a springboard to another upswing.

3. Bears Strike - However, IF the EUR falls through 1.37 then it should serve as due warning that the bears have re-established control in this pair, and any bullish scenarios should probably be shelved for the time being.