Ford Motor Company F announced that it will expand the electronic line-lock facility on 2018 Mustang. This exciting burnout feature, which was earlier available only on V8-powered Mustang GT, will now be standard on all pony cars. The 2.3-liter EcoBoost equipped models will also carry this exclusive feature.

The excitement of burnouts never fades. Traditionally, the electronic line-lock feature is being used by drag racers ahead of the starting line for heating up the tire rubber to gain better traction. This feature helps bracket racing drivers in achieving more consistent performance.

Using switches, a driver can toggle through the menu on the instrument cluster to activate electronic line-lock. On models equipped with 12-inch digital instrument display, drivers will witness an industry-first video-game-like animation of a spinning alloy wheel, which will create a cloud of smoke, indicating that the electronic line-lock feature has been activated.

Ford has underperformed the Zacks categorized Automotive - Domestic industry in the last three months. The company's share price has declined 4.1% during this period, while the industry has gained 5.1%.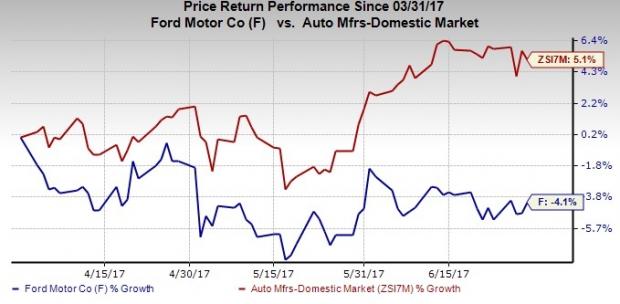 Currently, Ford carries a Zacks Rank #3 (Hold).

Some other better-ranked stocks in the auto space are Ferrari N.V. RACE, Allison Transmission Holdings, Inc. ALSN and Dana Incorporated DAN. While Ferrari sports a Zacks Rank #1, Allison Transmission Holdings and Dana Incorporated carry a Zacks Rank #2 (Buy).

You can see the complete list of today's Zacks #1 Rank stocks here.

Expected long-term growth rate for Ferrari, Allison Transmission Holdings and Dana Incorporated are 14.1%, 11% and 3%, respectively.

5 Trades Could Profit "Big-League" from Trump Policies

If the stocks above spark your interest, wait until you look into companies primed to make substantial gains from Washington's changing course.

Today Zacks reveals 5 tickers that could benefit from new trends like streamlined drug approvals, tariffs, lower taxes, higher interest rates, and spending surges in defense and infrastructure. See these buy recommendations now >>
Want the latest recommendations from Zacks Investment Research? Today, you can download 7 Best Stocks for the Next 30 Days.
Click to get this free report
Ford Motor Company (F): Free Stock Analysis Report
Allison Transmission Holdings, Inc. (ALSN): Free Stock Analysis Report
Dana Incorporated (DAN): Free Stock Analysis Report
Ferrari N.V. (RACE): Free Stock Analysis Report
To read this article on Zacks.com click here.
Zacks Investment Research